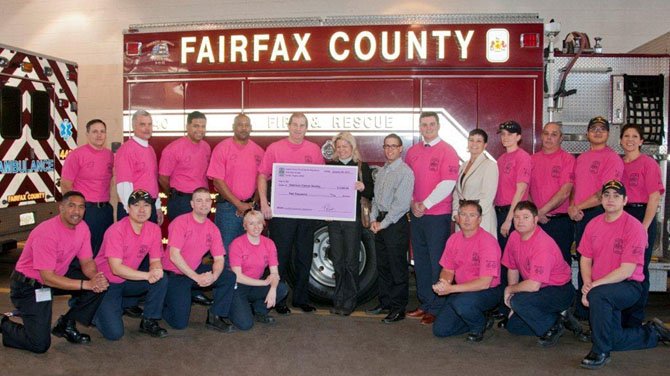 Last October during National Breast Cancer Awareness Month, members of the Fairfax County Fire and Rescue Department donned pink shirts to help the American Cancer Society increase awareness of breast cancer. They also sold the pink t-shirts to raise money to fight breast cancer. On Jan. 30, members of the department presented a check for $2,000 to the Society to advance the battle against breast cancer.
Fire Chief Ronald Mastin of the Fairfax County Fire and Rescue Department presented the check to Liz Davey, the American Cancer Society's Vice President for the National Capital Area. The funds were raised by the sale of pink t-shirts by firefighters. Employees within the fire department, and their families and friends, purchased the shirts, including the Fairfax County Professional Firefighters and Paramedics, Progressive Firefighters of Fairfax County and United Health Care.
Breast cancer is the second-leading cause of cancer death among women nationwide. In 2012, the American Cancer Society expects 226,870 women to be diagnosed with breast cancer and 39,510 to die of the disease.