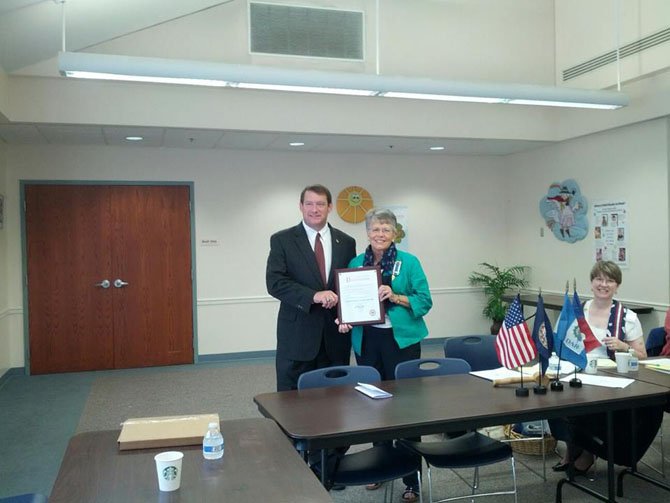 Supervisor Pat S. Herrity (R-Springfield) signed a proclamation designating Sept. 17 as United States Constitution Day in the Springfield District. The proclamation reminds citizens of the great heritage of the Constitution, which safeguards our liberties and freedoms. Constitution Week is observed annually Sept. 17-23. The photo shows Supervisor Herrity presenting the proclamation to Sue Kennedy, regent of Anna Maria Fitzhugh Chapter, National Society Daughters of the American Revolution.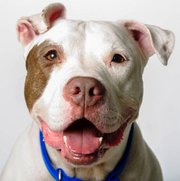 Large Shelter Dogs Discounted
The Fairfax County Animal Shelter has received an influx of large dogs in recent weeks and is now offering a half-off discount for all adoptive dogs over 40 pounds through September. Many of the large dogs are very active and need exercise. They're also loyal, friendly and highly sociable and just want human companionship. The shelter is at 4500 West Ox Road in Fairfax; it's open Fridays until 7 p.m. and Saturdays from 10 a.m.-5 p.m.
Firefighters Wear Pink, Purple
Fairfax County Fire and Rescue Department personnel will don pink shirts from Oct. 1-14 for Breast Cancer Awareness Month, and then wear purple wristbands in support of Domestic Violence Month, from October 15-31.
For the latter event, firefighters will wear purple wristbands with the message, "Speak Out to End Domestic Violence," on one side, and "Fairfax County Fire and Rescue Department," on the other.
Run Around Lake for Wounded Warriors
The 7th Annual Run Around the Lake—Run for Wounded Warriors will be held on Sunday, Oct. 6. Check-in begins at 7 a.m., run starts at 8 a.m. at the Burke Lake Park, 7315 Ox Road, Fairfax Station.
Event is sponsored by J. M. Waller Associates, Inc., a Service Disabled Veteran Owned Business specializing in environmental, facilities and logistics consulting and management services to federal, state, municipal and commercial clients and Halfaker & Associates, an 8(a), Small Disadvantaged Business, Service Disabled Veteran Owned, Woman Owned Small Business providing a comprehensive suite of services across the areas of homeland security and defense, physical security, program management and information technology.
The sponsors invite everyone to participate in the 7th edition of this annual event to support the Wounded Warrior Project as they run, jog, walk around Burke Lake while helping the Wounded Warrior Project. Race sponsors will cover the costs associated with the run allowing for 100 percent of registration fee and donations to go directly to Wounded Warriors.
The 7th Annual Run Around the Lake will once again be a formally timed event, so it is great for competitive runners but is also an excellent event for those just looking to have a good time.
Last year's Run Around the Lake raised $25,157 for Wounded Warriors. Projected turnout for the 2013 event is 500-plus people.

For additional information, visit http://www.jmwaller.com/wounded_warriors.asp or contact us at 703-912-2903 or runforwoundedwarriors@jmwaller.com.