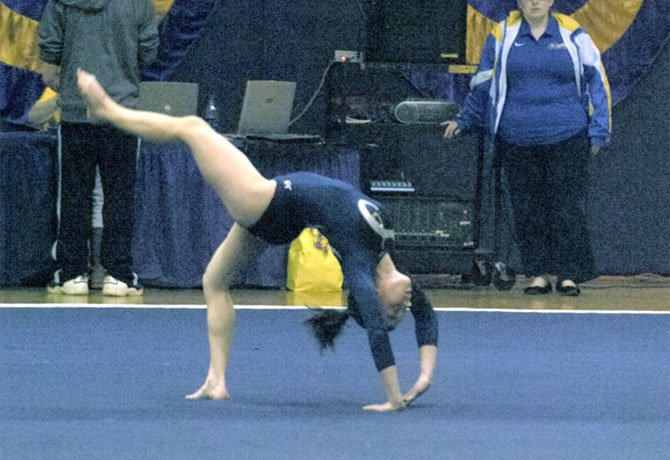 Leah Michetti and Katie Stewart are heading back to the Northern Region gymnastics meet.
For the second year in a row, Lee teammates Michetti and Stewart qualified for regionals in the all-around with top-four finishes at the Patriot District meet. Michetti placed second on Feb. 3 at Lake Braddock Secondary School, finishing with a total of 36.15. Stewart took third at 36.025. Lake Braddock's Caitlin Liberatore (first, 36.6) and West Potomac's Monica Thompson (fourth, 35.8) secured the other two spots.
One year after winning the district title and placing seventh at states, Michetti felt fortunate to finish second at districts after an early miscue on bars.
"I'm feeling OK," she said. "Based on my performance today I'm really happy to be in second. I had a huge mess up on bars and I thought that was going to take me out completely, so I'm happy to end up in second."
Michetti placed eighth on bars (still good enough to qualify for regionals) with an 8.475. She rebounded by finishing first on beam (9.05), second on floor (9.525) and fourth on vault (9.1). Stewart took fifth on bars (8.7), third on beam (8.675, tie), third on floor (9.45) and third on vault (9.2).
"It was touch and go to start and then they really had to perform to be in the top three, so it was an uphill battle," Lee head coach Val Taguding said. "They finished strong."
Michetti said it will be nice to have a teammate at regionals.
"It's really exciting to know that Katie's going, too," Michetti said. "I feel like that's just a lot of extra support."
Freshman Elisabeth Michetti qualified for regionals on vault with a score of 8.9, good for a seventh-place tie.
Lake Braddock won the team championship with a total of 140. Woodson earned the other team berth to regionals with a runner-up total of 136.1. Lee's third-place total of 131.15 set a school record.
The Northern Region meet will be held at 3:30 p.m. on Thursday, Feb. 10 at Lake Braddock.