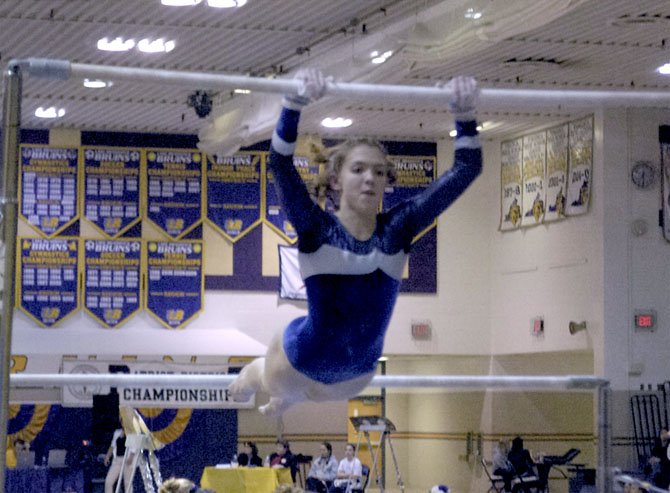 Burke — Caitlin Liberatore crossed her arms and paced back and forth, staring at the ground while counting her steps outside the wrestling room at Lake Braddock Secondary School. It was the senior's way of keeping herself calm while awaiting her turn on beam during the second-to-last rotation at the Patriot District gymnastics meet on Feb. 3.
Liberatore, a senior at Lake Braddock, would turn in a second-place performance on beam, producing an 8.75. From there it was over to floor, where Liberatore would have a chance to capture the all-around title during the meet's final rotation. After her routine, she cracked a wide smile when judges revealed a score of 9.575. It was enough to win the event, but was it enough to win the all-around crown?
"I knew I did a good routine," Liberatore said. "… I wasn't sure who was going to win."
As a sophomore in 2010, Liberatore helped Lake Braddock to a runner-up finish at districts by placing second in the all-around competition.
The following year, Liberatore won three of four events, leading the Bruins to a district title. But while Lake Braddock climbed atop the team standings, Liberatore's score in the one event she didn't win --- beam --- was far enough behind Lee's Leah Michetti that Liberatore once again finished runner-up in the all-around.
Now a senior, Liberatore was competing in the final district meet of her career. This time she did enough to win, earning the all-around title while helping the Bruins repeat as team champions.
Liberatore finished first on floor and bars (9.225), second on beam and fifth on vault (9.1) for a total of 36.6, enough to hold off Michetti (36.15), Lee's Katie Stewart (36.025) and West Potomac's Monica Thompson (35.8).
"It feels great. This entire year, my motivation was to finally

get first. At the meet, it was my drive."

— Lake Braddock senior Caitlin Liberatore
"It feels great," Liberatore said. "This entire year, my motivation was to finally get first. At the meet, it was my drive."
Lake Braddock head coach Ellen Hagan-Bowerman called Liberatore's floor routine "fabulous."
"I'm so proud of her," the coach said. "I'm excited. She's a senior. That has always been her goal and I'm glad she was able to accomplish it this year --- and we worked hard for it."
Lake Braddock's Sarah Price produced top-eight finishes in each of her three events. She finished second on bars (9.15), fifth on floor (9.1, tie) and sixth on beam (8.35).
"I think once the last girl went on floor," Price said, "we just knew we had [the team title]."
Lizzie White placed fourth on floor (9.275) and eighth on beam (8.1) for the Bruins.
Lake Braddock posted a team total of 140. Woodson finished runner-up, earning the other team berth to regionals with a total of 136.1.
Regionals will be held at 3:30 p.m. on Thursday, Feb. 9 at Lake Braddock.