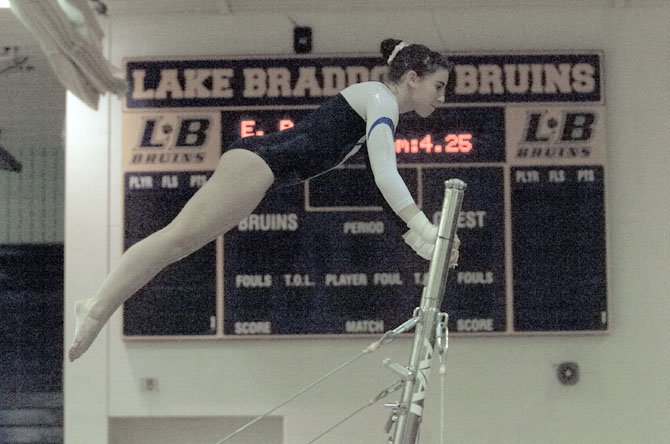 West Potomac's Monica Thompson took a chance at the Patriot District gymnastics meet by attempting a vault she had never thrown during competition.
The result helped earn the sophomore an all-around berth to regionals.
Thompson's piked Tsukahara vault received a first-place score of 9.4 and helped her to a fourth-place finish in the all-around on Feb. 2 at Lake Braddock Secondary School. Thompson's all-around total of 35.8
edged Woodson's Rachel Talento by one-tenth of a point. The top four all-around competitors advance to regionals.
"I was really excited because I haven't [attempted] that vault [in a competition] before," Thompson said. "I was kind of nervous going into it but it worked out for me well. … In practice, If you don't go for it you can always try again. At the meet, you really have to go for it. I'm glad I did."
Thompson advanced to regionals on bars and beam as a freshman. This year, she'll be competing in all four events. Along with her first-place finish on vault, Thompson finished third on beam (8.675, tie), fourth on bars (8.725) and ninth on floor (9.0).
"That was her best meet of the year," West Potomac head coach Pete Novgrod said. "… We upgraded the tuck tsuk to a pike tsuk, which helped a lot — she won vault with it. That was fantastic."
Missing two of its all-around competitors due to injury or illness, West Potomac finished fourth with a score of 118.9. Lake Braddock won the team title with a total of 140, followed by Woodson (136.1) and Lee (131.15). The top two teams advance to regionals.
— Jon Roetman
West Po's Jenkins To Play DB at Rhode Island
West Potomac senior Tyrone Jenkins signed a letter of intent to play football at the University of Rhode Island. He received a full scholarship and will play defensive back for the Rams.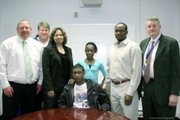 Jenkins was a standout wide receiver and defensive back for West Potomac. He led the Wolverines in receiving yards, touchdowns and interceptions during his senior year, helping West Potomac to a share of the Patriot District championship and a regional playoff victory against Chantilly.
While primarily a defensive contributor as a junior, Jenkins torched the opposition as a receiver, as well, during his senior season. West Potomac head coach Eric Henderson called Jenkins the best pure athlete in the Patriot District. Jenkins earned all-region and all-district honors as a receiver and was named all-district as a defensive back.
West Po's Lescher To Run for Navy
West Potomac senior Dale Lescher has compiled a decorated resume as a high school student athlete, receiving numerous accolades in cross country and track while maintaining a 4.42 GPA. Next year, Lescher will have a chance to shine at the collegiate level.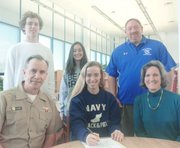 Lescher will run cross country and track for the U.S. Naval Academy. She has competed in both sports at the varsity level since her freshman year, earning 11 letters to this point. Lescher has received all-district honors 14 times, all-region accolades on eight occasions and earned all-state honors six times. She was the 2011 Patriot District champion in the 3200 meters and a member of the 2011 state champion 4x800-meter relay team. Lescher, a team captain in cross country and track since her junior year, helped the 2011 cross country team to its second straight district title and the program's first Northern Region championship since 1994. Lescher was also named West
Potomac's 2011 Fall Female Scholar Athlete.
West Potomac Thrives At Indoor Track Districts
Led by Sarah Jane Underwood's record-setting performance, the West Potomac girls' and boys' indoor track teams captured four Patriot District championships during districts last week at Episcopal High School.
Underwood won the 1000-meter title with a time of 2 minutes, 53.79 seconds, breaking the meet record of 2:58.8 set by West Springfield's Huma Husain in 2003. Underwood, whose time is the 10th fastest ever by a high school girl from Virginia, held off Lake Braddock's Sophie Chase, who also bested the former meet record with a time of 2:55.96. Tyrone Jenkins captured titles in the triple jump (43 feet, 7 inches) and long jump (21 feet, 4 1/2 inches). Brady Corum took home the 3200 championship — his first individual title — with a time of (9:55.19).
Dale Lescher (1600, third and 3200, fourth), Corey Rosenberg (1000, fourth), Marc Lotterie (500, fifth), Colleen Boyle (3200, fifth), Crispin Bernier (1000, sixth), Katie Genuario (1600, sixth), Kelly
Slatery (high jump, sixth) and Stephen Banks (55 hurdles, sixth) also qualified for regionals, which will be held Feb. 18 at George Mason University.
Seven WP Wrestlers Qualify for Regionals
Seven members of the West Potomac wrestling team earned a berth to regionals with their performance at the Patriot District meet on Feb. 2-3 at Annandale High School.
Andrew Sutherland (152 pounds), Will Rupp (160) and Zach Prinzbach (182) each finished second in their respective weight classes. Ian Thompson (113), JJ Perez (120) and Nick Africano (170) advanced with third-place finishes and 126-pound Anthony Africano finished fourth.
Led by first-year head coach Mike Cummings, West Potomac's showing at districts was an improvement over last year, when the Wolverines sent one grappler (Thompson) to regionals.