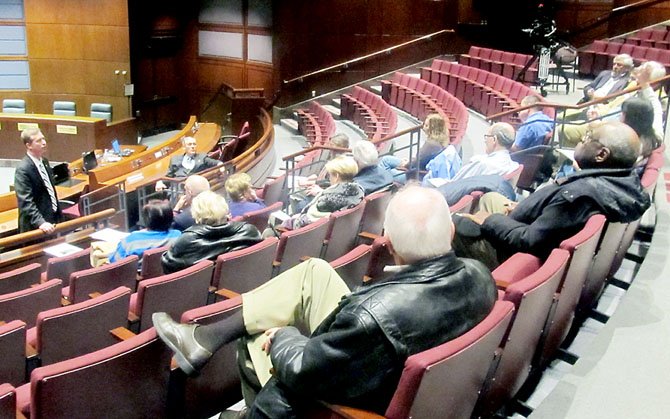 Less than a month after Virginia's General Assembly convened on Jan. 11, the GOP's effective control of both houses has paved the way for a slew of conservative social legislation, from broadening gun rights to curbing abortion and voting rights.
Virginia's "Republican Revolution," as some call it, was not specifically on the agenda during the Town Hall meeting hosted by Del. David Bulova and State Sen. David Marsden, Fairfax's two Democratic legislators representing the 37th district. But many of the constituents who attended the forum at the Fairfax County Government Center on Saturday, Feb. 4, raised some of the hot-button issues drawing national attention to Virginia.
John W. Farrell, a Fairfax attorney involved in local Democratic politics, said he was particularly concerned about the number of Republican-backed bills this session that would require stricter forms of voter IDs and put further limits on who can vote by absentee ballot.
Photo Gallery
Viewpoints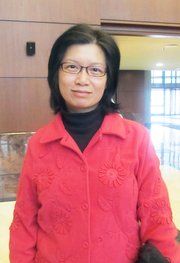 Why did you attend the Town Hall Meeting?
Click Photo for Flash
The issue garnered national media attention during a Jan. 31 rally in Richmond when Democratic state senators and delegates were joined by civil rights leader Dr. Benjamin Chavis to oppose measures they say echo Virginia's Jim Crow-era of discriminatory voting practices.
"These bills need to die. (Republicans) are using voting fraud as an excuse to steal elections," Farrell said.
Caroline Hemenway of Herndon urged Bulova and Marsden to oppose the bills, saying they were "blatant attempts to take us back to the pre-Civil Rights era when whites ruled the smoky back rooms of election.
"I know older adults who do not have birth certificates right here in 'wealthy, educated' Fairfax County who would be unable to vote…Supporters (of these bills) want to keep old, poor, and black people from the polls," Hemenway said.
Marsden agreed, and said Republican legislators are using voter fraud as a smokescreen. "We're trying to fix a problem we just don't have," Marsden said. "That's the net effect of all these (voting) bills. When we ask these legislators to cite one example of voter fraud, they just can't do it."
But on Monday, Feb. 6, Republican Lt. Gov. Bill Bolling broke a 20-20 partisan deadlock in the Senate, clearing way for passage of legislation that will force Virginia voters to show identification before casting a ballot. The next stop for the bill is the House of Delegates, where Republican control more than two-thirds of the seats.
"Virginia is heading where South Carolina was in 1861, too small for a country and too large for an insane asylum," said Marsden, quoting Congressman James Petigru, who made the famous remark after the Palmetto state declared its secession in 1861.
Before opening up the discussion for questions, Bulova presented an overview of issues currently before the General Assembly, including bills on transportation, education, eminent domain and repeal of the one-handgun-a-month law and the Kings Dominion law. He noted that Virginia was making slow but steady progress recovering from the "great recession." "We've regained 49,000 jobs over the past three years, and Virginia's unemployment rate is 6.2 percent compared to the national unemployment rate of 8.3 percent," Bulova said.
He also gave highlights of several bills he and Marsden have sponsored.
Earlier in the day, Bulova co-hosted a town meeting with Sen. Chap Petersen (D—34) at Fairfax City Hall.
"It is always interesting to see what issues come up," Bulova said. "At the morning meeting there was healthy debate about transportation, while we also had a large number of people concerned about the scheduled closing of the Northern Virginia Training Center. No matter what, the feedback is invaluable and I really appreciate people coming out to be part of their government," Bulova added.
Marsden is carrying 20 bills this session, among them SB 201, also known as "Alicia's Compass," which addresses the lack of treatment information given to families of children who suffer heroin overdoses. The bill would require community service boards to provide hospitals with educational materials on alcohol and substance abuse services available to minors. It also requires hospitals, upon discharge, to educate the patient and the family when it is involved in the patient's medical decisions or care about post-discharge treatment and services available.
"It's important to improve our services and improve communication to those who are suffering from substance abuse. This bill is the first small step towards that end," Marsden said.
Bulova also shared data from his 2012 Constituent Survey, which showed that 60 percent of the 222 respondents listed transportation, economic development, and K-12 education as the top three legislative priorities. To learn more about Del. Bulova's bills, or to take part in his 2012 Constituent Survey, go to www.davidbulova.com.