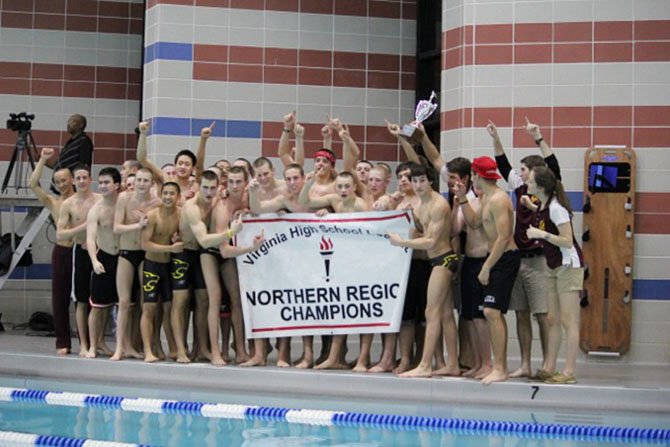 Vienna — Oakton High's varsity boys and girls swim and dive teams both won their respective Northern Region Championship meets this past Saturday night, Feb. 4 at the Oak Marr Recreation facility. The Oakton boys scored 281.5 points to finish first over second place Woodson (250) and third place Madison (217). The Oakton girls scored a winning 245 points with West Potomac (190) and Langley (181) finishing second and third.
It marked the first time in Oakton's history that the girls' team has won the region title. The boys' team, meanwhile, captured its third region crown in four years.
It has been 10 years since a school won region championships on both the boys' and girls' sides.
Oakton sophomore Janet Hu broke two regional records at the championship meet – in the 100-yard freestyle (49.52) and the 100-yard backstroke (53.76). Both swims qualified as Automatic All-American (AAA) times. In addition, Hu brought the Cougar girls' 400 freestyle relay from behind to win the race with an All-American Consideration (AAC) qualifying time of 3:30.96.
Joe LeBerre placed third in the regional boys' diving finals with 461.40 points. He scored 16 points for Oakton's overall score and will move onto the state championship competition in two weeks. Cougar diver Andy Berger placed 13th overall.
Numerous Cougar swimmers and relays placed at regionals with state qualifying times.
Individual place finishers for the Cougars were: Stephanie Hallock, sixth in the girls 200-freestyle; Denny Nguyen, seventh in the boys 200-individual medley and seventh in 100-back; Carter Sharer, third in the boys 50-freestyle; Laura Branton, third in the girls 50-freestyle; Philip Hu and Sharer, third and fourth in the boys 100-butterfly; Hu, second in boys' 100-back; Laura Branton, first place in the girls 100-butterfly; Gillian Crews, sixth in the same event; Conor Murphy, sixth in the boys 100-freestyle and seventh in 100-back; Janet Hu, first in the girls 100-freestyle with a region record time of 49.52, and first in 100-back with region record time of 53.76; Brian Phillips, fifth in the boys 500-freestyle; Ryan Santoro, 11th in boys 100-breaststroke; Melissa Shebat, 14th in girls 100-breaststroke.
In the boys 200-medley relay, Oakton's Conor Murphy, Ryan Santoro, Carter Sharer, and Denny Nguyen placed fourth.
In the girls 200-medley relay, Janet Hu, Melissa Shebat, Gillian Crews, and Ashley Doran finished third.
In the boys 200-freestyle relay, Ryan Santoro, Gregory DeRosa, Denny Nguyen, and Philip Hu placed fifth.
In the girls 200-freestyle relay, Laura Branton, Ashley Doran, Stephanie Hallock, and Gillian Crews placed first.
In the boys 400-freestyle relay, Carter Sharer, Conor Murphy, Brian Phillips, and Philip Hu placed first.
In the girls 400-freestyle relay, Laura Branton, Stephanie Hallock, Kendall Lawhorn, and Janet Hu placed first.
Oakton, under head coach Parker Ramsdell, returns to the pool for the State AAA Championship Meet at George Mason University next Friday and Saturday, Feb. 17-18.