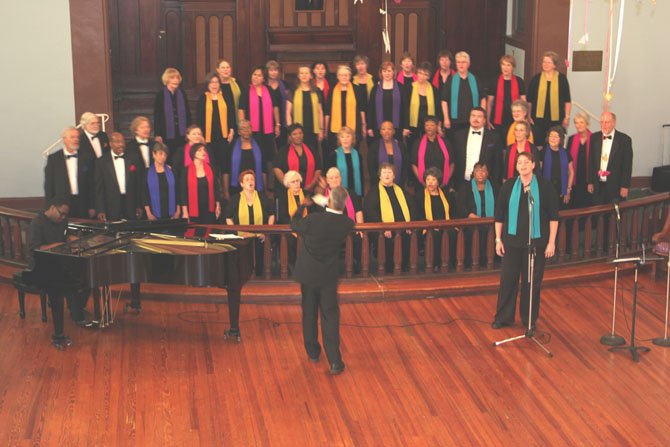 As the country celebrates Black History Month in February, Fairfax County has a multicultural interfaith choir that is spreading African-American culture in all of its concerts.
The chorus, Mosaic Harmony, has been singing inspirational songs in the black gospel music style since 1993, with its base at the Unitarian Universalist Church of Fairfax (UUCF) in Oakton.
"Every message from our songs has its foundation in the African-American musical tradition," says David North, director for 15 years. "The spiritual and freedom songs were about mercy and God's power and deliverance. We also communicate justice, liberation, unity and God's love."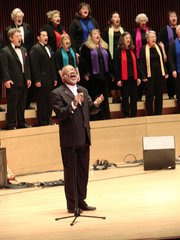 Originating from African tribal music, the rhythms and music evolved into the spirituals and metered hymns sung by the Africans' descendants in this country, he says.
While the majority of Mosaic Harmony's 60 singers are white, the audience can see them swaying, clapping and singing praises as if they were at a revival service in Anacostia, Harlem or East St. Louis. Frequently, the audience joins in.
North's repertoire includes some traditional spiritual pieces as "The Storm Is Passing Over" and "Soon I Will Be Done (With the Troubles of the World)" in a jazzed-up version. But many are contemporary pieces such as Kirk Franklin's "Smile" and a number of North's own works, such as "One Humankind" and "Now Is the Time." All concerts conclude with chorus members holding hands with the audience and singing "Make Us One."
"It is the Word without necessarily the teachings of Christianity," says North. "The lyrics could be what anyone of any faith might sing to bring a message of good news to someone else. The Moslems, the Jewish and Buddhists are people of good will that believe the same thing that Jesus believed in—the love and the reign of God." The choir's music has frequent references to "Lord" but few to Christ, Jesus or the cross. And God is not referred to as "He."


RELIGIOUS DIVERSITY has been the choir's theme since it was started by the Unitarian congregation in Oakton. Other churches sent members, and there was soon a consensus "to unify the world one song at a time," says Laura Romstedt, the assistant director. Like many gospel choirs, Mosaic Harmony does not rely on printed music. So members don't have to know how to read music. In fact, there are no auditions. The choir rehearses every other Tuesday night at the Oakton church.
"Every message from our songs has its foundation in the African-American musical tradition."

—David North, Mosaic Harmony Director
Unlike blues, rock or jazz, the music always has an uplifting theme. "No matter how down I have felt going into a rehearsal, I have come out feeling 80 percent better," says member Roxane Hughes.
It is the animated choir director who gets most members' credit for lifting their spirits. North sings a number of solos and puts the audience to work by standing, clapping and singing along to some of the fast-paced songs. He is also pastor at Holy Redeemer Metropolitan Church in College Park, Md., and recently retired as an adult protective services investigator for Prince George's County.


THE CHORUS performs and raises money at concerts for a number of charities, such as Coats for Kids, Family Matters, Capital Hospice, Buganda University and the Brain Tumor Foundation. In 1997, Mosaic Harmony won the Human Rights Award from the Fairfax County Human Rights Commission. Last March, the choir was the closing act in the widely heralded "Intersections" concert series at the Atlas Performing Arts Center in Washington.
While Mosaic Harmony appears throughout the Washington area (and has even performed in Europe), many of its concerts are in Fairfax County. On Feb. 26 it sings at Tall Oaks Assisted Living in Reston, and on May 12 at the dedication of the United Christian Parish in Reston.
Then comes its annual fund raising concerts "Something to Sing About" on Sunday, May 26, at 4 p.m. at UUCF and Saturday, June 2, at 7 p.m. at Convergence in Alexandria. Tickets for these two concerts are on sale on the website www.mosaicharmony.org. CDs can also be purchased on the website. Information can be received also on Facebook's "Mosaic Harmony" page.