When and Where
Saturday, Oct. 10, 4:30 p.m.
Reston Community Center
Hunter Woods
2310 Colts Neck Road, Reston
Robert E. Simon was a founding member of The Reston Chorale in 1967.
"Bob's commitment to establishing Reston as an integrated community in the early 1960s — a time when segregation and racial deed restrictions were prevalent — was the inspiration behind the concert when we began planning it last season," said Ruth Overton, president of The Reston Chorale. "We wanted to honor Bob's vision and integrity, and Reston's pivotal role as Virginia's first integrated community."
More than 165 singers and musicians from The Reston Chorale, Mosaic Harmony and D.C.'s historic ShiIoh Baptist Church will sing in a concert dedicated to Simon on Oct. 10. The concert is called, "Wade in the Water: Songs of Freedom, Faith and Friendship."
The three choirs will sing African American inspirational music from songs that brought hope and sustenance to slaves as they longed for and made their way to freedom to songs that inspired freedom fighters of the Civil Rights movement, Overton said.
As plans for the concert progressed, tragic events in the news—from Ferguson, Baltimore and Charleston—also influenced its shape.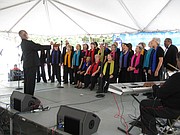 "That's when it expanded to include songs of friendship," said Rev. David North, director of Mosaic Harmony, "because we wanted this concert to be an expression of unity in the midst of diversity, with each ensemble bringing something special to the mix."
Mosaic Harmony is a multi-faith, multi-cultural community choir based in Fairfax County that sings inspirational music based on the gospel tradition.
David Lang leads The Reston Chorale, an auditioned, mixed-voice chorus known to perform a wide range of musical genres.
Dr. Thomas Dixon Tyler leads The Senior Choir of historic Shiloh Baptist Church of Washington, D.C.
"When we began planning this concert a year ago, we were inspired by Bob Simon's commitment to creating Reston as an integrated community, so we reached out to several other groups to produce a concert of inspirational African American music," said Susan Meeks-Versteeg, managing director of The Chorale.
Rev. LaVerne M. Gill, host of Reston's African American Legacy series, will serve as the narrator for the concert.
"The first half will open with the combined choirs — 165 voices strong — singing a piece based on the spiritual Walk Together Children, followed by each choir performing several selections on their own," said David Lang, artistic director of The Reston Chorale. "In the second half, we'll mix it up—literally—with the choirs uniting and merging into one massive chorus. Then we'll get the audience involved, with Rev. North leading us all in a few old—and perhaps even new—songs."
Said Lang: "There's a movement in The Essential Life—a work by Donald McCullough that the Chorale commissioned and sang for Reston's 50th anniversary and Bob Simon's 100th birthday—based on Amy Lowell's poem Market Day. It describes the doors of a church opening wide and the sound of this magnificent music spilling out and filling the square with 'vibrant harmony.'"
"Bob would have loved this concert. He won't be in his usual place in the front row, but he'll be in our hearts," said Ruth Overton, president of the Reston Chorale.