Public safety and traffic were among the topics when representatives from the Fairfax County Sheriff's Office and the Virginia State Police spoke recently in Centreville. They addressed the Jan. 25 meeting of the Sully District Council of Citizens Associations.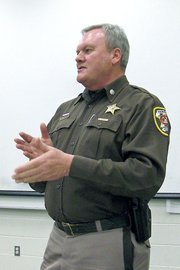 Lt. Col. James Whitley, Chief Deputy/Operations, with the county Sheriff's Office, presented some history along with his statistics. He's been with the Sheriff's Office for 31 years and has seen many changes since he began.
"There's been a sheriff in Fairfax County since 1742," he said. "He was also the tax collector. When I came on in 1980, we had 140 people; now there are over 600 employees. We have 1,260 beds in our jail – it's one of the largest in the state – and 85 deputies at the courthouse."


ONLY 1 PERCENT of the applicants to the Sheriff's Office are actually hired, said Whitley. "It's a rigorous process," he said. "One-fourth of our sworn staff is female, and one-third of the force is non-white, so we have a whole lot of diversity."
He said a great deal of their work is focused on cutting down recidivism. "We present our staff as role models," said Whitley. "Many [people who are arrested] never had anyone to look up to."
Furthermore, he said, "An estimated 70 percent of our inmate population has substance-abuse problems, and 16 percent is severely mentally ill and should be in mental-health facilities. We're working with the state, trying to get more hospital beds for them. We also try to get them connected to job skills."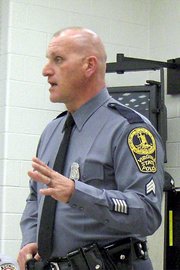 Sgt. Robert Alessi with the Virginia State Police, has worked out of the Fairfax office on Braddock Road since December 2006 and has served almost 25 years with the state police. "We're mainly an assist agency, helping at both the local and federal levels," he said. "We all do the same thing and we're there for each other."
There were only 300 Virginia state troopers 75 years ago, and now there are 1,800. "The interstates are our primary responsibility," said Alessi. "We do speed enforcement on I-66."
Locally, he said, "On I-66 at Route 28, we're having huge problems, mornings and afternoons, with traffic backing up on the ramps and people cutting in [to take the Route 28 exit] at the last minute. We're putting extra troopers there to try to stop that."
It happens on I-66 east leading to Route 28 north in the mornings and on I-66 west leading to Route 28 north in both the mornings and afternoons. And Alessi would like the cut-in drivers to remember that "a little courtesy out there on the road goes a long way."


BUT HELP is on the horizon, he said. "They're going to possibly open up the shoulder of I-66 as far back as Stringfellow Road," said Alessi. "Opening up the shoulder prior to the merge area [for the Route 28 exit] will get us some temporary relief so traffic could get on [the shoulder] quicker. They're also going to extend the [exit] ramp and make it two lanes; construction should begin in 2014."
He said he and his fellow troopers attend many meetings "to make the traffic easier out here." Alessi also reminded motorists what to do when they see an officer stopped on the side of the road. "Drivers in the lane closest to him must move over one lane as soon as possible," he said. "It's a law; and if they don't do so, they can receive a summons and could possibly be fined $1,000 in court."
So does he have any firsthand knowledge of this danger? Said Alessi: "I've been hit by three cars and run over by a tractor trailer."