Homes for 'Lost' Animals
The Lost Dog and Cat Rescue Foundation hosts 10 adoption events in Washington, D.C. area every weekend.
Fridays:
Petsmart Fair Lakes, 12971 Fair Lakes Shopping Center, 6:30 to 8:30 p.m. (dogs only)
Petsmart Tysons Corner, 8204 Leesburg Pike, 6:30 to 8:30 p.m. (cats only)
Saturdays:
Petsmart Seven Corners, 6100 Arlington Boulevard, noon to 3 p.m.
Petco Rockville, 1507 Rockville Pike, 1 to 4 p.m. (dogs only)
Petsmart Fair Lakes, 12971 Fair Lakes Shopping Center, 1 to 4 p.m. (dogs only)
Sundays:
Petsmart Sterling, 46220 Potomac Run Plaza, noon to 3 p.m. (dogs only)
Petsmart Alexandria, 7960 Richmond Highway, 1 to 4 p.m. (dogs only)
Petsmart Tysons Corner, 8204 Leesburg Pike, 1 to 4 p.m.
Petsmart Leesburg, 510 East Market Street, 1 to 4 p.m. (cats only)
Petsmart Reston, 11860 Spectrum Center, 1 to 4 p.m. (cats only)
McLean — Since 2001, volunteers from the Lost Dog and Cat Rescue Foundation have gathered every weekend all over the area with one objective: to find homes for dogs and cats in need of rescue. The foundation holds 10 events per weekend, including two at the Petsmart in Tysons Corner.
"Over the last 10 years, we've placed 17,000 animals," said Marcia Tiersky, president of the organization's board of directors. "We get them from local shelters, rural shelters, and we pull as many as we have space for each week."
The foundation's goal is to rescue abandoned or displaced animals before they become one of the approximately four million dogs and cats that are euthanized annually in the United States. The foundation and its more than 300 volunteers place an average of about 2,000 animals per year into new homes.
Many of the animals are kept at the 61-acre Lost Dog and Cat Ranch in Sumerduck, Va., west of Culpeper.
During events, volunteers can be found walking around the stores with the dogs. The cats are stored in the back, where the store provides them with litter and other supplies.
"I'm not sure how anyone can show up, see these beautiful animals and not want to take one home," said Susan Blades of Vienna, who came across Sunday's Tysons event during a regular shopping trip to Petsmart. "I've always been a big supporter of the idea of rescuing animals, and it's lovely to have the chance to see them, interact with them and possibly take one home all in one day."
Volunteers themselves have been known to be clients, like 14-year-old Jon Bikoff of McLean, who started when he needed service hours for school.
"The first time I came here I was watching the puppies, and I ended up adopting both of them," he said. "I've come about a total of 10 times, and adopted six puppies."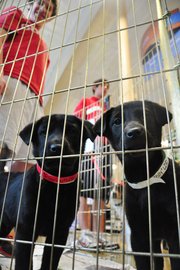 His friend, Sander Altman, has also started volunteering for the events at the Tysons Petsmart.
"I've always liked dogs a lot," he said. "And coming here, I've realized that I love meeting new dogs, and I love showing them off to people who might be interested."
Petsmarts in Fairfax and Loudoun Counties, as well as Maryland, host most of the weekly adoption events.
"Petsmart has been a very big supporter, they also make a donation for every animal adopted out," Tiersky said.
Animals are spayed and neutered if necessary, and are given updates vaccines and medical care before being put up for adoption. The foundation conducts onsite interviews at each event, making the adoption a same day process for those interested in adoption. Adoptions also include a two-week trial period.
Any breed and animal age is also accepted. Information on all available animals can be found at www.lostdogrescue.org, as well as information on volunteering and adoption events.