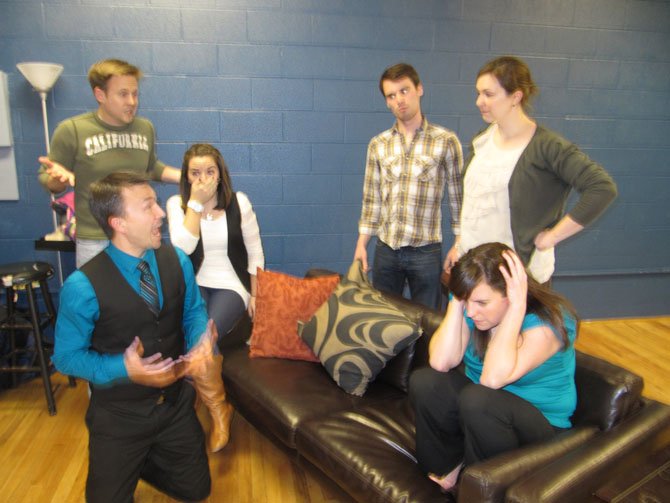 "It's a great time to leave real world conflicts aside. Come, find yourself enjoying a delightful, feel-good musical about building a relationship," said Lisa Bailey, director of the Reston Community Players production of the romantic comedy "I Love You Because."
Told through a musical score of about 18 songs, the show is "about the starting-over process we may face in our lives as we build a new relationship... especially an unexpected one," said Bailey. There is a cast of six with a five-piece band under the musical direction of Elisa Rosman.
"I Love You Because" was performed Off-Broadway in 2006. It has music by Joshua Salzman, with book and lyrics by Ryan Cunningham. Set in the New York City of the moment, new rules of dating are explored. A man in his 20s is upset over his girlfriend's actions. He is pushed and pulled about. At the same time a woman in her 20s is also working through a bad break-up. In their connected rebounds they find each other with the help of friends. Coping with their many differences and perhaps flaws propels them into and out of conflicts galore from loving someone "anyway" to loving someone "because."
Suzanna Todd has the role of the young woman dealing with a bad break-up. In describing her character and the situation she said, "this is all so real. I mean, we may think we know what we want and what is best for us, but it doesn't always end how we may think."

For Evie Korovesis, who plays Todd's best friend, the show "speaks to how we can find love with someone even if we originally thought we had nothing in common when we first met." With a big infectious smile, she described how people at first might find someone "odd with a facade" but over time take a deeper look.
The two male leads are Joshua Redford and Tim Adams. Both agreed that the show is "cute and fun with fabulous music." Redford spoke of the lyrics in one particular number, in which his character sings of saying goodbye to previous expectations and breaking away from old rules to allow himself to trust and fall in love with the unexpected.
Bailey and her cast agreed that, "the show is a delight, you will leave with a smile."