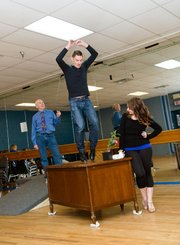 Where and When
Reston Community Players present "Xanadu" at CenterStage, Reston Community Center, 2310 Colts Neck Road, Reston. Performances are March 7-29, Friday-Saturday at 8 p.m. and Sunday, March 16 & 23 at 2 p.m. Tickets are $23. Call the Reston CenterStage box office at 703-476-4500 or visit: www.restonplayers....
"It is going to be a great over-the-top time," said Evie Korovesis, who is featured in the upcoming Reston Community Players' production of the musical comedy "Xanadu."
It's about time for an escape into glitter, big hair, silver disco balls and roller skates. Laced up into their roller skates, the Reston Community Players (RCP) are deep into rehearsal working on pop tunes like "Evil Woman," "Have You Ever Been Mellow," "Strange Magic," "Suddenly" and "I'm Alive."
"Xanadu" is the multiple Tony Award nominated, energetic musical parody of the 1980 movie "Xanadu" that starred Olivia Newton-John. Music and lyrics are by Jeff Lynn and John Farrar with book by Douglas Carter Bean.
Director Josh Redford is a big fan of the musical. "I have been drawn to the music and the soundtrack for a long time. The music is just so upbeat and infectious." Music director Matt Jeffrey will have a four-piece band to take the audience along on the infectious ride.
"It will be a bright delightful 90 minutes," said Redford. The production will include projections and even chalk drawings will come alive.
In "Xanadu" the audience follows a magical Greek muse named Kira. She is on a mission to inspire a struggling artist; a mortal named Sonny. He wants to fashion the ultimate artistic creation; a Roller Disco. Ah, but Kira makes a major mistake, she falls into forbidden love with Sonny. Her jealous sisters try to have her pay for her misstep. Comic chaos across time ensues.
At a recent rehearsal, the cast was in the midst of a run-through. It was easy to visualize the leg warmers and hand-bands that RCP costumer Kathy Dunlop has in store. The outfits will run the gamut from 1980's sparkles, 1940's wide lapels, to Greek theme outfits. Many of the costumes have been hand-made by Dunlop.

Korovesis, a Reston theater veteran, is Kira. With a charming smile, she chatted about her weeks of roller skating practices and learning the necessary "Aussi" accent for her character. All of this after her regular workday as the music teacher at Columbia Elementary (Annandale). Korovesis called the show "silly, happy fun." Her love interest is Russell Silber as Sonny. Silber has performed on a number of Northern Virginia community theater stages.
Get ready to journey to another time and place with wonderfully lively love songs. And roller skates. It will leave you breathless.