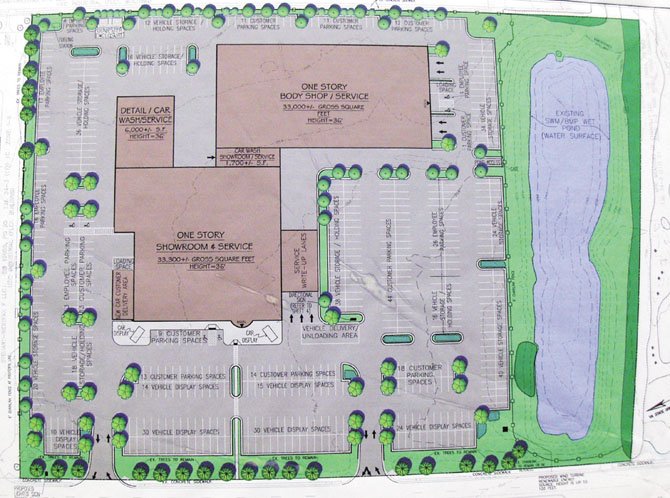 Chantilly — It's on to the Board of Supervisors now for Pohanka Automotive Group's proposal to construct a Honda dealership in Chantilly. It got a green light recently from the Fairfax County Planning Commission.
The plan includes a body shop, too, and both buildings would be erected on a 10-acre site at Stonecroft Boulevard and Stonecroft Center Court. They'll also be built and operated in energy-saving and efficient ways.
The dealership will reclaim and recycle most of the used water from the carwash, capture and treat all of the storm-water runoff, use energy management to control the HVAC and lighting systems and use extra insulation in the roofs and walls to minimize heat loss and gain.
It will also use vegetable oil — instead of caustic hydraulic fluid — for service lifts, and employ low-emitting materials (adhesives, sealants, carpet, paint and coatings) for all construction/renovation work. These are only a few of the many, green practices Pohanka intends to incorporate in this new facility.
It also plans to install a wind turbine that will become a renewable-energy source going into the dealership's electric grid. It will come off of a 100-foot high, single monopole with two blades. And having a car-dealership there would result in about half of the planned density the county initially designated for that site.
In January, the West Fairfax County Citizens Association (WFCCA) Land-Use Committee approved Pohanka's proposal. But county staff was recommending denial of its application because the dealership wouldn't be officially LEED-certified. LEED (Leadership in Energy and Environmental Design) is a for-profit entity that provides independent, third-party verification of a building's green components.
However, Scott Crabtree, president of Pohanka Automotive Group, said his company would rather "put this money into green elements in our building that we know will make a difference," than spend the $200,000 in paperwork it would take to obtain LEED certification.
The matter went before the Planning Commission on Feb. 9 and, at that time, it was approved, 11-0, with one commissioner abstaining. And Sully District Planning Commissioner John Litzenberger — in whose district the dealership would be — was delighted.
"The commissioners agreed with me that you can't deny an application solely on the basis of Leed-certification," he said. "Staff meant well, but really didn't have the authority to make LEED-certification a condition of county approval."
Eventually, said Litzenberger, staff attempted to reach a compromise with Pohanka. "It worked out in the end because the application was approved," he said. "And I'm very pleased that we're going green in Sully and using innovation to use the wind to indirectly charge electric cars."