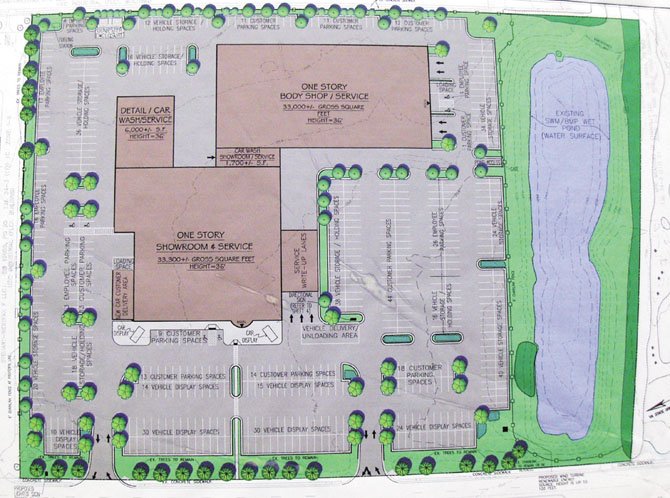 If all goes well, the Pohanka Automotive Group will someday build a new Honda dealership in Chantilly. But it won't just be another business selling cars — it'll be one chocked full of green, environmentally friendly elements.
The 10-acre site, which would also include a body shop, is at Stonecroft Boulevard and Stonecroft Center Court. And last Tuesday, Jan. 17, Pohanka representatives explained the project to the West Fairfax County Citizens Association (WFCCA) Land-Use Committee.
When they were through, the WFCCA gave it a thumbs-up. The matter was then due to go to the Fairfax County Planning Commission on Wednesday night, Jan. 26, for its consideration. And Pohanka was hopeful that all its green measures would secure it another approval.
"We'll have a wind turbine for a renewable-energy source that will go into the dealership's electric grid," said attorney David Houston. "There'll be a 100-foot high, single monopole with two blades, a total of 30 feet wide."
Pohanka has an extensive list of green, building practices it intends to employ in this dealership, including treating and capturing 100 percent of the storm-water runoff, reclaiming and recycling 80 percent of the used water from the carwash, using LED or fluorescent lamps in the light fixtures and incorporating an energy-management system to control the lighting and HVAC systems.
It also plans to install operable windows for natural ventilation, increase the roof and wall insulation to reduce heat loss and gain, install ultra-low-flow plumbing fixtures, install daylight sensors (automatic light controls tied into skylights), recycle all waste oil, use vegetable oil — instead of caustic hydraulic fluid — for service lifts, and use low-emitting materials (adhesives, sealants, carpet, paint and coatings) for all construction/renovation work.
Since Pohanka first appeared before the WFCCA in September 2011, it shifted the body shop behind the showroom and might possibly add a mezzanine to the showroom. "It allows for more open space and interior landscaping [on the site]," said Houston. "[County] staff supports our design and the wind turbine, and we're about half of the planned density" originally envisioned by the county for that site.
But, he said, "Staff recommends denial of our application because of the county's green-building policy. Staff wants it to be LEED-certified. But it's not a marketable benefit for an auto dealership, and we have many green features on this site."
Scott Crabtree, president of Pohanka Automotive Group, also addressed the WFCCA. "Our company's been in business for 93 years," he said. "We do our own design, building and construction, and we've been doing LEED thinking and changes in our buildings, the past 10-15 years."
For example, said Crabtree, a former physicist and mathematician, "We discovered our showroom doors opened and closed 400 times a day, so we put in quick-closing doors to be more energy-efficient. And we've been using T-1 and LED lights for 10 years. But it would cost $200,000 in paperwork to do the LEED certification, vs. putting this money into green elements in our building that we know will make a difference."
LEED (Leadership in Energy and Environmental Design) provides independent, third-party verification of a building's green components. But, said Sully District Planning Commissioner John Litzenberger, "LEED, being a for-profit company, keeps jacking up the price to do this certification. And I don't know any other car dealership in the county that's required to have it."
"Staff says it's doing so because this site is designated by the county as a Suburban Center, but we don't have a metro or buses there," he continued. Saying he believes Pohanka's application takes going green to a whole, new level, Litzenberger said, "They'll generate electricity for the dealership from the wind turbine, and a plug at the bottom of the pole can even charge up an electric car that can be driven away."
He said Pohanka's currently at a "standoff" with county staff. "But there's no county ordinance requiring LEED certification for county approval of a project," said Litzenberger. "I think Pohanka's doing everything it can to comply with LEED, except for getting the rubber stamp of approval from this for-profit company."
Crabtree noted, as well, that the parking-lot lights will be LED and downward facing and will cut off at a certain time to save energy. He also said the service department will be open, seven days a week, from 5:30 a.m.-11 p.m.
"Customers don't have to make an appointment," he said. "They don't have to wake up at 6 a.m. on a Saturday to come in; they can come in when they want to. We want to fix the car in an hour or less, while the customer's there." Doing repairs in off-peak hours, added Houston, means that those customers won't add to rush-hour traffic.
"We would like your support," he told the WFCCA. "We're continuing to work with staff to see if we can get them turned around."
WFCCA's Chris Terpak-Malm said that, with a business park in the vicinity of the site, she believes "people will like having a car-service area nearby."
Judy Heisinger then made a motion that the WFCCA recommend the Planning Commission approve this application, "irregardless of it being LEED-certified." She also made it a condition that Pohanka's list of green elements be designated as its proffers.
Mark McConn seconded the motion and the panel then gave its unanimous approval. The issue then headed to the Planning Commission.
Hoping for an eventual green light from the county, Houston estimated it would be 18 months after that before the business was up and running. But, added Crabtree, "We'd like to do it as soon as possible."
By Bonnie Hobbs
Centre View