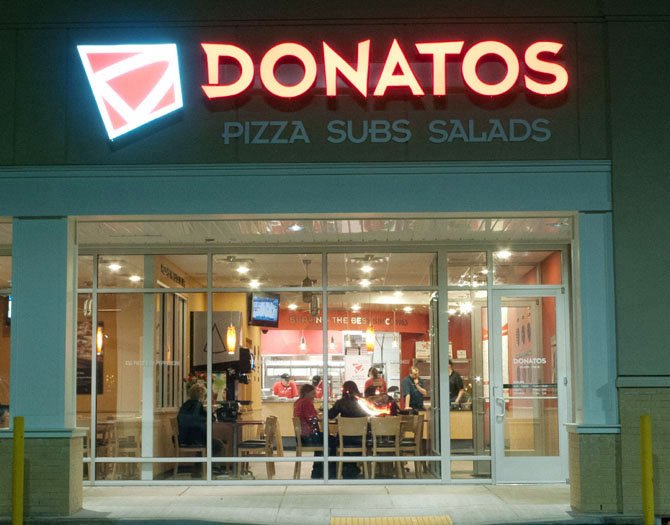 Evidently, a lot of Vienna people have been watching the build-out of the newly-opened Donatos pizza and sub restaurant in the Danor Shopping Center. The restaurant is packed every evening with in-house diners and carry-out purchasers since opening in late February. In the industry, Donatos is known for its edge-to-edge pizza toppings, something the Vienna store's manager extols. That and the corporate philosophy of providing top-notch customer service to every customer, store manager Jeremy Watson said. The restaurant offers sit-down dining, carry-out and delivery.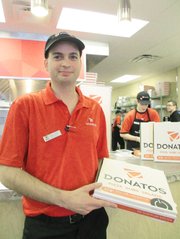 Danny Finan's parents bought a Donatos pizza the day after the restaurant opened and on the third day, Danny Finan was in to pick up an order, as well. "My parents said it was amazing," said Finan. "My dad knows pizza. He's a big boy."
Donatos was founded in Columbus, Ohio, in 1963 and quickly became a college favorite. Even in the Vienna area, Ohio alumni come in for a trip down memory lane, so to speak. The large pepperoni pizza comes with 100 slices of pepperoni on each one. The sausage comes from an original family recipe, and pizzas are cut into little squares. An individual-sized pizza starts at $5.99, the medium at $10.99 and large at $13.99. They are "famous" for their thin crust pizza, Watson said.
There's more than just pizza in this brightly-lit sit-down restaurant. Donatos sells subs, salads, side dishes including chicken wings and dessert, and serves every age demographic from toddler to senior. The 45-member staff is mostly local residents, with a splattering of Madison High School students among them.
The Abel family of Vienna – Blake, Shellie and John – said they are in the Danor Plaza area frequently and watched Donatos take shape. When they saw the grand opening sign, they stopped in for dinner.
"We love pizza," said dad, John. "This is very good, fresh-tasting, not out-of-the-can. The service is excellent." Son Blake said the family was surprised that, in a casual restaurant, the staff came by to check on the table. "Everyone is well-trained," Blake Abel said.
THE PIZZA OVENS are unique in that the temperatures are segregated according to pizza type. There's a rack for thin crust, another for thick crust. There's a rack for single topping pizzas and a rack for multiple topping pizzas.
"What the customer orders is baked properly according to their order," said Watson. "We don't bake the thin crust and thick crusts the same. The guys know how to bake each order perfectly."
There's a party room, created for office luncheons or birthday celebrations that can be reserved at no charge. Hosts are permitted to bring in cake and ice cream if they would like.
It's not just the ovens that are unusual. The countertop that baked pizzas sit on is heated to keep the pizzas piping hot until servers bring them to the tables.
Donatos Vienna is out to make marks as a good neighbor. To that end, the store offers fundraising tools for local nonprofit organizations, from schools to service organizations.
One fundraising tool is "dough night," Donatos creates the fliers for the organization, and, on the particular designated "dough night," 15 percent of the order accompanied by the flier goes back to the participating nonprofit. Watson said the store cuts a check to the organization the next day.
A second tool is a fundraiser card offering buy-one, get-one-free pizza and subs, sold by nonprofits, for $10. The nonprofit receives $8 from the sale of the card. Field marketing manager Doug Galusha said the store has already partnered with a Vienna elementary school. Donatos partners with dentists' and doctors' offices to offer "good patient" awards to children. Galusha has been making the rounds in Vienna, introducing the store to other businesses and to medical practitioners.
"We want our staff to focus on product quality and service," said Galusha. "We're a 'good neighbor' in every community we go in."
Watson said he wants the people of Vienna to think of Donatos as he thinks of it, a restaurant that sells the best product on the market and builds relationships with customers.
"Whether it's a party, a meeting with friends or dinner, Donatos is where I would want to be."
Donatos is located at 126B Branch Road where Blockbuster used to have a home. To order online, go to www.donatos.com/nova or call in your order at 703-281-2800. They do deliver within and outside the town limits but have an eight-minute drive limit to ensure the products arrive hot.