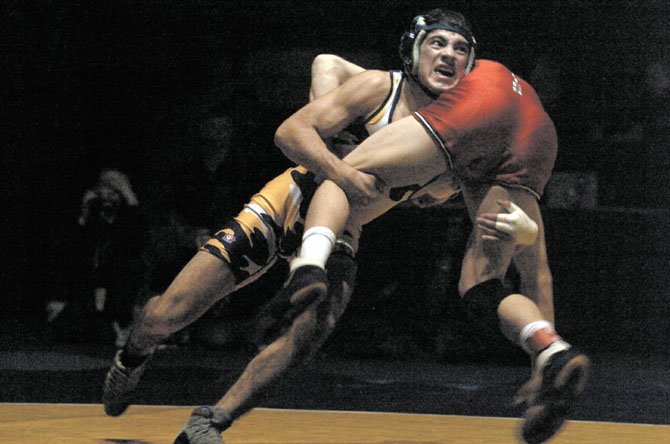 Fairfax — Santiago Valdez produced a losing record during his first two seasons as a Robinson wrestler. After two years of hard work and dedication, Valdez produced a state championship.
The senior won a 5-4 decision against Grassfield's Taylor Misuna in the 138-pound final during the AAA state championships on Feb. 18 at Robinson Secondary School. Valdez's victory, along with Brooks Martino's second state title helped the Rams finish runner-up in the team competition.
Valdez, who finished runner-up to Westfield's Derek Arnold at the Northern Region championships on Feb. 11, was the only non-region champion to capture a state title.
"He is the poster child for what hard work can do because he has put in more work than any kid you will ever see in the state."

--- Robinson wrestling coach Bryan Hazard about Santiago Valdez
"His first two years he had a losing record," Robinson head coach Bryan Hazard said. "His father took him all over the country. He traveled and trained six to seven days a week for the last two-and-a-half years and it paid off. He made good decisions socially; he did all the right things that you ask of a kid. He is the poster child for what hard work can do because he has put in more work than any kid you will ever see in the state."
Valdez said his father, Patrick, played a major role in his development by taking him to wrestling camps and tournaments.
"I had a goal and I knew I had to work hard to get it," Valdez said. "I did what I had to do."
After Valdez won the 138-pound crown, Martino followed with his second consecutive state championship. The senior defeated Salem's Zach Kechter 3-1 in the 145-pound final, and outscored his four opponents 32-1 during the state tournament.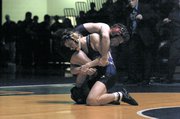 "It was a whole lot harder the second time --- a lot more pressure," said Martino, who last year won the 135-pound title. "I wouldn't say pressure, but maybe [higher] expectations coming in. People are gunning for whoever is defending. You just want to get that top person. I've been working for this all year. As soon as that last buzzer went off I was so happy. I was ecstatic."
While Martino was excited about his accomplishment, he also showered Valdez with praise.
"I am beyond happy and proud of Santiago," Martino said. "I couldn't be more proud of him. We've been grinding on each other for three years since I've been here, but especially this year. We worked out 95 percent of the time. At practice it was me and him. We've both been pushing each other so hard and we both got [state] titles. It's just unbelievable.
"The amount that he's improved --- he wasn't even a starter his freshman year --- it's ridiculous. I'm so proud of him."
Sophomore heavyweight Jake Pinkston finished state runner-up for Robinson and senior Jonathan Simmons took fifth in the 160-pound bracket. After losing some talented grapplers from last season's state championship team, Hazard said he was pleased with the Rams' runner-up finish.
"I think there's a lot of naysayers out there saying that this team would fold when our stars leave," Hazard said, "but it shows you what team is all about."
Colonial Forge won the team championship with 152.5 points. Robinson finished with 87 points, followed by Matoaca (67.5) and Annandale (65.5).