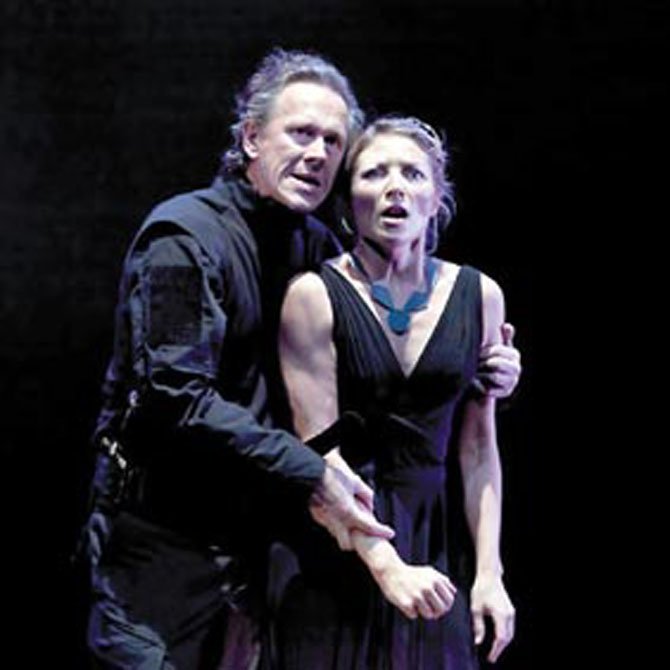 Fairfax — "Fair is foul and foul is fair" in this acclaimed British/American touring company's
rendering of Shakespeare's classic tragedy. In this brutal and chaotic tale, nothing is as it seems and men combat their own madness and fates. Aquila Theatre brings a modern-dress production of "Macbeth" to George Mason University's Center for the Arts in Fairfax on Saturday, Jan. 28 at 8 p.m. A pre-performance discussion, free to ticket holders, begins 45 minutes prior to the performance on the Center's Grand Tier III. Pre-performance discussions are sponsored by the Friends of the Center for the Arts.
More Information
Tickets for Aquila Theatre's production of "Macbeth" are $20, $32, $40. Charge by phone at 888-945-2468 or visit cfa.gmu.edu. The Center for the Arts complex is located on the Fairfax campus of George Mason University at the intersection of Braddock Road and Route 123. Paid parking is located in the deck adjacent to the mainstage Concert Hall and free parking is located in university lot K. Visit cfa.gmu.edu.
First published in 1623, "Macbeth" tells the tale of Scottish general Macbeth, who, fresh from victory, encounters three witches in the forest on his journey home. The witches present a fascinating prophecy: one day, Macbeth will become the King of Scotland. When Lady Macbeth hears the news, she persuades her husband to commit regicide, leading the couple down a murderous and maddening path into war, insanity, guilt and death. Superstitiously called "the Scottish play," "Macbeth" has enjoyed substantial success throughout history, despite its reputation for being a cursed play.