"That all the world will be in love" wrote Shakespeare. Such a deep wish for the ages from The Bard's 400-year-old tragic tale of two young lovers hoping their feuding families would reconcile.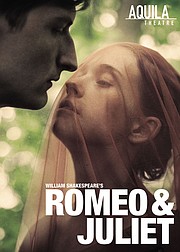 Soon local audiences will have the opportunity to be smitten once again with Shakespeare's chronicle about "two kids growing up amongst violence, hate and societal pressures that put expectations on them that are impossible to manage," said Desiree Sanchez, artistic director of the British-American Aquila Theatre.
Known for its dynamic physical approach and modern treatments of classical works. Aquila's "Romeo and Juliet" will have plenty of "fun and flashy fight sequences, which will be sure to amaze, the emotional truth behind this tragedy is very pure," noted Sanchez.
Even as society and families put much in their way, Juliet and Romeo find love, "or maybe they are simply desperate to find something that can help them both escape the confines and horrors of the world around them," added Sanchez. "It's a story that warns us of the dangerous paths we carve out for ourselves and for our children.
"This play has a lot of messages but the one which seems to strike a chord for me most is that if love and the freedom to love is not honored and protected, humanity will not flourish, and destruction and loss is all we will have left," said Sanchez.
Where and When
Aquila Theatre presents William Shakespeare's "Romeo and Juliet" at the George Mason University Center for the Arts, 4400 University Ave, Fairfax. Performance on Sunday, Oct. 11 at 7 p.m. Tickets: $26-$44. Call 888-945-2468 or visit http://www.cfs.gm...">www.cfs.gmu.edu
Note: There will be a pre-performance discussion 45 minutes before the performance.
Asked about audiences seeing a play that they may be very familiar with, Sanchez said, "I think that there is a lot that modern young audiences can identify with. We live in a world where our morals are handed down to us by our parents and grandparents, and many people stop questioning the world around them-- they allow themselves to continue living in the strictures of the world they know. Then, here come two young people who find each other and realize that the world is large, and that change is possible to achieve if you devote yourself to it."
Aquila's "Romeo & Juliet" has multi-cultural casting with five actors playing various roles. Sanchez promises audiences a production with great youthful energy "that it will be hard to look away from the action."
Inviting audiences to the Center for the Arts, Sanchez said "from the hyper physical movement sequences to the deeply moving acting, the show promises to be engaging for audiences of all ways, shapes, and sizes."

More like this story