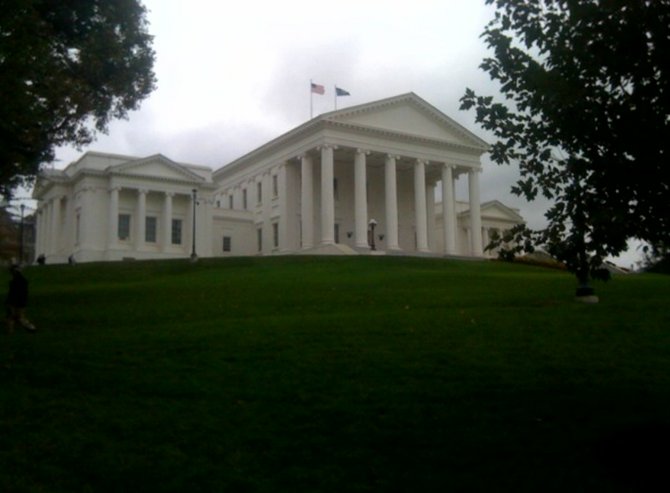 Steve Stuban can't help but wonder if things could have turned out differently. Back in 2010, his son Nick was considered a model student at Woodson High School in Fairfax County. That is, until school officials caught the teenager with synthetic marijuana. Administrators didn't contact the parents until a decision had already been made to suspend the boy with a recommendation for expulsion.
"Nick had been questioned multiple times over multiple days and had been asked to execute multiple written statements," said Stuban. "They had already decided what they punishment was going to be. It was only then that they thought to perhaps contact my wife and I."
Nick Stuban committed suicide in January 2011. And ever since that day Steve Stuban has been fighting to increase parental notification. Last year, he waged on unsuccessful campaign for the Fairfax County School Board. Now, he's taking the fight to Richmond, working with a handful of legislators to create a legal requirement for school administrators to notify parents before they start questioning students in serious cases that might lead to suspension or notification of law enforcement.
"I find it troubling that school administrators have questioned students for hours at a time without parental knowledge regarding issues that could lead to the student's expulsion or incarceration," said Del. Tim Hugo (R-40).
WORKING WITH STUBAN and newly elected Fairfax County School Board member Elizabeth Schultz, Hugo has introduced House Bill 1080. The bill requires school principals to notify parents before questioning students in the case of a "serious violation." The bill defines a serious violation as a violation of School Board policy or a violation that could lead to a student's suspension. The legislation would also force parental notification before school administrators file a court petition.
"I would be concerned that schools might not have the flexibility they need to take swift action in a way that would preserve the security of a school," said Arlington School Board member Libby Garvey. "Sometimes bad cases make bad law."
Last year, a similar effort introduced by Del. Kaye Kory (R-38) passed the House of Delegates but didn't make it out of committee in the state Senate. An array of groups lined up against the proposal, including the Fairfax County Public Schools, Virginia Education Association and the Virginia Association of Secondary School Principals. Supporters say things have changed over the course of the last year, as more and more parents have come to realize that parental notification is not required under the law.
"Once you finally get through to parents about how the law works, they are incredulous about this," said Schultz, who testified in Richmond as a parent last year and is now advocating for the bill as a School Board member. "We're having to compel people to do what they should already be doing anyway."
STUBAN SAYS he's fully aware that school administrators may try to push back on the legislation as they did last year. But he also pointed out that the bill has a great deal of support, including teachers unions and members of the Fairfax County School Board. And because the issue has received so much attention over the course of the last year, he feels momentum is on the side of the bill. More importantly, he said, the case for the bill is strong.
"You want schools and parents and students to work together as a team," he said. "But right now the process is adversarial in nature."
This week, Stuban appeared with Schultz in Richmond along with several Northern Virginia legislators to begin a public-relations campaign on the issue. Members included Hugo and Kory along with state Sen. David Marsden (D-37) and state Sen. Chap Petersen (D-34). The coalition is hoping that Stuban's personal story and the growing chorus of support for the legislation will be enough to overcome opposition by school administrators. Opponents say the effort may cause more harm than good.
"This legislation sounds overly prescriptive to me," said Garvey. "You never want to impose something on school divisions that restricts how they can respond to situations involving safety."