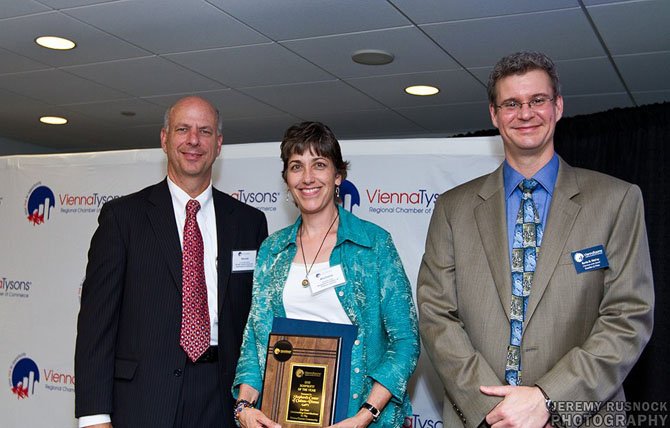 The Shepherd's Center of Oakton-Vienna (SCOV) was recently presented with the 2012 Nonprofit of the Year Award from the Vienna Tysons Regional Chamber of Commerce for their outstanding service to the community during the past year. In 2011 the agency's 190 volunteers provided 10,000 hours of service for older adults 50+. In the past six months alone SCOV saw a sharp increase in new clients needing the services they provide.
SCOV provides care and support to seniors in the Oakton and Vienna community. In addition, the agency also serves seniors in Reston and Fairfax. Founded in 1997, SCOV is a volunteer-based organization dedicated to providing opportunities for senior adults to seek rewarding lives and to live independently in their homes for as long as possible. The Shepherd's Center provides volunteer and participation opportunities for adults 50+ to live fulfilling lives through lifelong learning, social programs and service to the community. SCOV's dedicated group of volunteers give their time, talent and commitment to serve the elderly who are no longer able to drive. Volunteers drive seniors to medical appointments or to purchase groceries, visiting or calling those who are homebound and providing vital office assistance. These services are always provided free of charge. In addition to these services, continuing education is a vital part of the Shepherd's Center mission to keep seniors engaged and active. Some of the classes offered include bridge, t'ai chi, health seminars and topics highlighting current affairs. The bi-monthly Caregivers Support Group offers caregivers a compassionate place to share similar stories and challenges as they care for an adult family member. The Shepherd's Center of Oakton-Vienna receives no government support and depends on the generosity of supporting congregations, businesses, civic groups and individual donors. Volunteers are the heart of this organization and many volunteer opportunities are available.
To learn more about the Shepherd's Center or to volunteer, visit their website at www.scov.org or contact Michelle Scott, Executive Director at 703-281-0538 or director@scov.org.