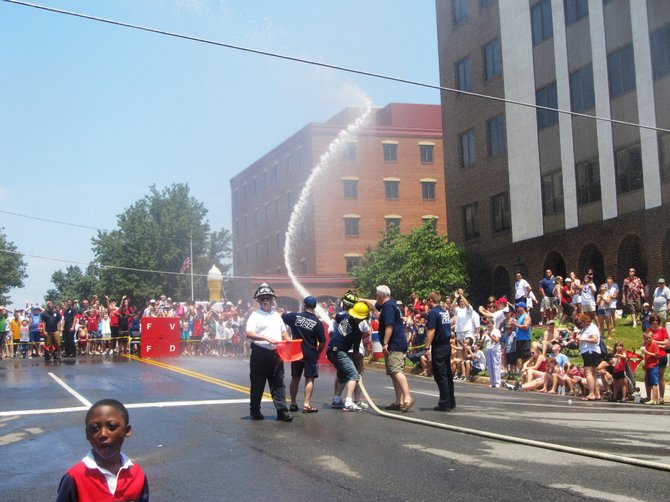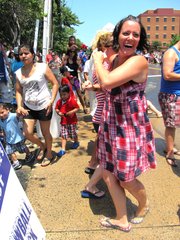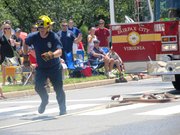 Mike Savory staked out a prime spot to see one of his favorite Fourth of July events, the Old-Fashioned Fireman's Day in historic downtown Fairfax.
"We've been here since 5:30 this morning," Savory said. "We love the whole thing, the parade, the Fireman's Day, and then we're headed to Rebel Stadium for the fireworks."
"The 'funnest' part is getting wet," said Ashlee Savory, 8, who walked in the morning parade with her City of Fairfax Girl Scout Troop.
As America celebrated its birthday, more than 300 spectators lined University Drive for one of the city's most popular traditions - the annual Old Fashioned Fireman's Day competition.
Firefighters from the City of Fairfax and other neighboring departments teamed up to compete in annual event, which includes the traditional Battle of the Barrel and Lay-a-Line competition.
This year, Burke's Volunteer Firefighters – dressed in matching socks with fire flames – beat out departments from Ashburn and the City to win the "lay-a-line" event, a timed competition that simulates a response to a fire. As fire engines race down University Drive, firefighters jump out of their trucks, lay a hose from a hydrant, pull out another hose line and knock down three targets with their water hoses – all in under 30 seconds.
Battle of the Barrel is a reverse tug of war, in which an empty beer keg is suspended 12 feet in the air. Members utilize a 2 1/2' hose line to push the barrel to the opponent's side.
Spectators are "warned" that they will get wet, and – on a sweltering July 4th - when temperatures soared into the triple-digits that warning was a crowd-pleaser.
"Getting wet is our favorite part. Everyone wants to get soaked," said Samantha Miranda, 9, from the City of Fairfax.
Jennifer Loeb and Kerry Petrauskas, sisters who grew up in the City of Fairfax, travel from Bristow every year to celebrate the city's Independence Day events with their family.
"We come back to the event every year to dance, eat snowballs and get water-soaked. Our parents still live here, and we all get together for this event. What could be more American and fun than this," Loeb said.