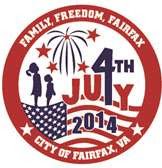 For fun, music, fireworks and a rousing parade, the City of Fairfax is the place to spend the Fourth of July. The festivities begin at 10 a.m. with a parade through the downtown Fairfax Historic District, continue with open houses and a firefighters' competition and culminate with rock music and colorful fireworks at Fairfax High.

"For nearly 50 years, the City has worked hard to ensure a day that will become a fond memory for Fairfax and Northern Virginia families," said Mayor Scott Silverthorne. "It's the most popular of all our City events and, while I may be a bit biased, I believe ours is the best Independence Day celebration in Virginia."
Huge Parade
Rain or shine, the 48th annual Independence Day parade will run from 10 a.m.-noon, starting at the Massey Building at 4100 Chain Bridge Road. It will then travel in a loop past the old courthouse, along Main Street and University Drive and past the reviewing stand in front of City Hall on Armstrong Street. Except for service animals, parade attendees are asked to leave their pets at home, and tents aren't allowed along the parade route.
This year's parade features eight high-school marching bands from as far west as California to the City's own Fairfax High Marching Rebels, plus bands from Woodson and West Springfield. The Washington Redskins Marching Band will also participate, as will the Northern Virginia Firefighters' Emerald Society Pipe Band.
Other parade entries include horses, clowns, color guards, firefighters, police, Boy and Girl Scouts, Cub Scouts, dance groups, musicians, barbershop singers, and the Grand Marshal, Uncle Sam. Participating, as well, will be the Rough Riders Junior Buffalo Soldiers Drill Team, City of Fairfax Theatre Co., large inflatable balloons, local and state politicians and the uniquely entertaining City Of Fairfax Regional Library Precision Book Cart Drill Team.
Parking, Shuttles
Streets on the parade route will close at 7:30 a.m., but shuttle buses will run from 8:30-10:30 a.m. from parking areas at George Mason University (GMU), Woodson High and Fairfax United Methodist Church and return again from 12:30-1:30 p.m. GMU is at 4400 University Drive; Woodson, 9525 Main St.; and Fairfax UMC, 10300 Stratford Ave.
Fireman's Day
Following the parade, visitors may watch area fire companies compete in a variety of events during an old-fashioned Fireman's Day. It'll be held from 12:30-3 p.m. at Fire Station 3 at 4081 University Drive.
Vying against City of Fairfax firefighters will be teams from the Centreville, Burke and Falls Church volunteer fire departments, plus the Fairfax County Fire and Rescue Department and the West Springfield fire station. The event includes food, beverages and games.
Open Houses
Several, historic Fairfax buildings will be open to visitors on July 4. They include the Fairfax Museum and Visitors Center, 10209 Main St., 9 a.m.-4-p.m.; and the Ratcliffe-Allison House, 10386 Main St., 11:30 a.m.-1 p.m.
Rock Music, Fireworks
In the evening, the festivities shift to Fairfax High, 3501 Rebel Run. There, starting at 7 p.m. in the football stadium, people may enjoy listening and dancing to the music of Leggz, a band that'll perform everything from Motown favorites to classic rock & roll to hits of the 1970s and '80's.
Later on, the City of Fairfax Band will play the "1812 Overture" to herald the spectacular fireworks display slated to begin at 9:30 p.m. The fireworks will be shot off from the baseball field; afterward, Leggz will perform a grand finale to cap off the day's entertainment. Rain date for the fireworks only is July 5 at 9:30 p.m.
On July 4, Old Lee Highway will be closed from Ridge Avenue (just past Artie's Restaurant) to Layton Hall Drive from about 9:15-11 p.m. Items that could puncture the synthetic turf aren't allowed on the stadium's field. No smoking, alcohol, tents or animals, except for service animals, are allowed at Fairfax High, and all bags are subject to inspection.
Evening Parking, Shuttles
Shuttle buses will run from 6-9 p.m. from Woodson High to Fairfax High. Following the fireworks, buses will return spectators to Woodson until 11 p.m. Only limited public parking will be available at Fairfax High. However, it will offer handicapped parking; call 703-385-7858.
Rain date schedule, if July 5 fireworks are necessary: Shuttle buses will run from 7-9 p.m. from Woodson to Fairfax High. Buses will return spectators to Woodson afterward.
Sponsors, Volunteers
Many sponsors are helping to make this celebration a reality, but the main ones are Fair City Mall and 97.1 WASH-FM radio. Organizing the parade are the Independence Day Celebration Committee and the City of Fairfax Parks and Recreation Department.
Also making this event possible are a myriad of volunteers who've tirelessly donated their time and talents. For more information on any of the activities or to volunteer, call 703-385-7858 or see www.fairfaxva.gov.