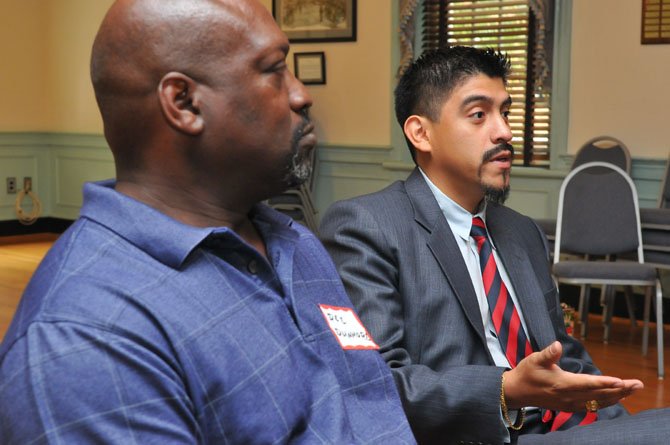 Alexandria — Former Virginia governor and Democratic candidate for senate Tim Kaine met with veterans and active duty military members of American Legion Post 24 in Alexandria July 9 in a roundtable discussion focusing on unemployment and other issues facing service members and their families.
"The unemployment rate among veterans is not consistent with the commitment we have to those who have served our nation," said Kaine, a former national chairman of the Democratic party. "We need to leverage the skills of our veterans and connect that talent to the workforce."
Kaine suggested a system be implemented that would provide civilian accreditation for skills learned during military service that would aid with employment once they leave active duty service.
"We need to view our active duty military as a talent pool," Kaine said. "We need to help our veterans get more traction in the workforce by giving them credentials for their military skills that civilian employers would understand and respect."
Army veteran Chance Wiley agrees.
"I was an army infantryman and the only job people think I am qualified for is law enforcement," Wiley said. "There should be a training program for infantry to show that we can do more than shoot well and march. And while the GI Bill is great, it requires you to be a full-time student, which is difficult if you have a full-time job."
The candidate was also asked about issues relating to health care and immigration during the 90-minute session.
"I believe it is the obligation of the president and congress to keep the VA properly funded," said Kaine in response to several complaints about care under the Veterans Administration. "And there is not a lot of research on what the long-term effects will be of the repeated deployments we've had during the last 10 years."
Virginia is home to more than 340,000 active duty and reserve military members and their families. Additionally, over 823,000 veterans and military retirees reside in the Commonwealth.
"This was a great opportunity for veterans to get our issues directly in front of the candidate," said retired Army combat medic Ulycess "Dee" Dunmore. "Everyone had a lot of good points to make and Kaine was able to keep everything on topic."
Air Force veteran and Alexandria business owner Fernando Torrez said he appreciates Kaine's commitment to meeting with veterans.
"This is the best way to approach the local veteran's community," Torrez said. "The way to show the importance of the issues is by talking directly to those affected. I was especially impressed because Gov. Kaine didn't do a lot of talking — he knew the importance of listening."