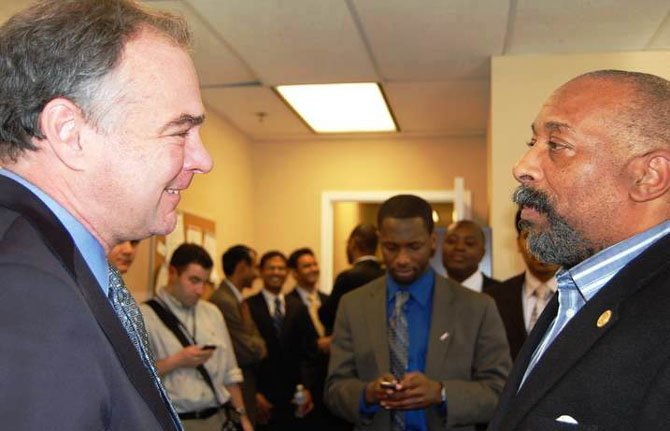 During a campaign stop at a Fairfax workforce development company on Thursday, former Virginia Gov. Tim Kaine (D) emphasized the need to foster a "talent economy" that will reboot America's drive to the top of the economic ladder.
Kaine spoke to about 50 staff and students at Multivision, Inc., an information technology (IT) consulting company, about giving American workers opportunities to acquire 21st century technical skills to keep pace with the evolving demands of global employers.
"I really believe - big-picture, national-policy now - that America will be stronger if we win the talent war, and we will have problems if we lose the talent war, to put it bluntly," Kaine said.


THE VISIT was one of several economic roundtables Kaine has been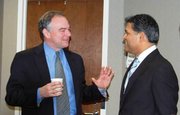 holding across the state in his bid to fill the seat vacated by Democratic U.S. Sen. Jim Webb. Kaine is being challenged by former Republican Governor George Allen.
Kaine said his focus on "talent issues," means three things: ensuring that education systems are world class from pre-K to higher-education; providing opportunities for retraining and workforce development; and an immigration system that allows the best and brightest to come to America to create jobs and contribute to the economy.
"For many years our country was number one in the world in percentage of our adult population getting some kind of degree after high school, but today we're 16th and we're slipping," he said.
Kaine told the group that Multivision caught his attention last fall when he met founder and president Srikanth Ramachandran, who came to America 14 years ago from India to pursue the "American Dream." Kaine said he was impressed that, since 2009, Multivision has provided training and job coaching that resulted in jobs for more than 45 unemployed Americans.
"What you're doing here at Multivision is a wonderful bridge for people who have the talent and desire, but not always the sufficient skills to be successful," Kaine said, adding that bridging the gap requires a scaled-up partnership between business, government and educational institutions.
Now a U.S. citizen, Ramachandran said he started the Fairfax-based Multivision in 2002; by 2007, the company employed 200 people and netted $32 million a year. But when the economy started to sputter in late 2008, Multivision struggled to find veteran talent in the rapidly evolving IT industry.
"We were astounded to find out how many unemployed did not have skills in the latest technologies. There was a huge gap between their skills and the required skills," Ramachandran said. "There was clearly a need to retrain workers in the latest technologies."
The company tackles unemployment by providing free, full-time IT programming to unemployed and underemployed during an intense 8-week, 40-hour program that Ramachandran described as "much like a boot camp."
"We provide training across different age-groups and ethnicity. About 40 percent of our students are above 50…The success of our training model depends on constant retraining," he said.
Ramachandran said it was "a pleasant surprise to talk to politician who is totally in touch with reality. I was impressed by his humility, intellect and clear understanding of the unemployed."
Kaine said one of the most common stories he hears in his travels across the Commonwealth is from unemployed workers who have a degree but not the advanced technology skills to find a job.


KAINE DESCRIBED a recent visit to a Kraft Foods plant in Winchester, where he talked to a manager who said he had five jobs available but could not find someone with the right skills to hire.
"There are a lot of companies that have manufacturing jobs and want to hire. I hear from people who say they know how to work the machines, but companies want to hire people to program the machines, so the old skills are not sufficient. This is what made me want to come to MultiVision," Kaine told the group.
Kaine said he was particularly moved by the story of a 55-year-old man he met that afternoon who is completing Multivision's training program.
"That was a poignant story. This man is unemployed and his son is going to Thomas Jefferson High School for Science and Technology. That is the kind of talent story we should be telling," Kaine said.
Instead, he said the Virginia talent story is getting obscured by the GOP's focus on social issues.
"I am worried…Are we really talking about the legality of birth control," Kaine said after his visit to Multivision.
"This is no time to be complacent about the economy. When I said to the group that Virginia went from 38th in the nation (in per capita income) to being 7th, it's clear we didn't excel by getting bogged down in divisive social issues."
Kaine noted that when he was governor from 2006 to 2010, companies such as Northrop Grumman and Volkswagen of North America, decided to headquarter in Virginia, mainly because of people and talent.
"What I hear from our business leaders and owners is that they are tired of partisan games and distractions causing uncertainty and making it hard to be successful," Kaine said in a recent conference call with reporters.