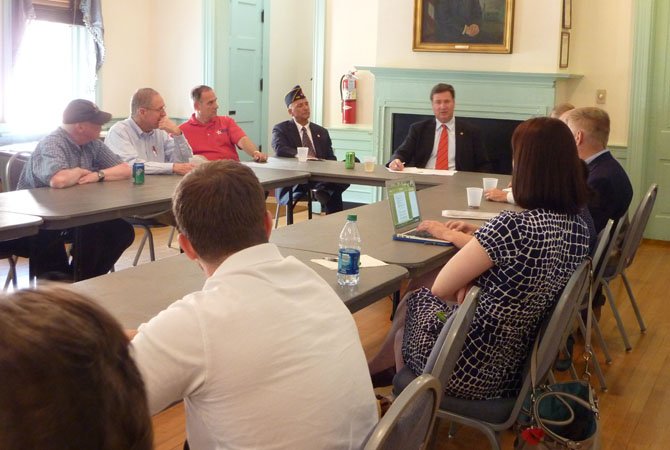 Alexandria — Republican Senate candidate George Allen held a Veterans Issues Forum June 14 at American Legion Post 24, where he met with Alexandria veterans to discuss issues affecting military service members and their families.
"America enjoys her freedom today because of you," Allen said to the veterans gathered in the American Legion ballroom in Old Town. "You are the ones willing to give your lives for our country and your community."
Concerns raised by those in attendance included the high unemployment rate among veterans, the lack of access for service organizations to military installations and the complicated insurance coverage provided by TRICARE.
"The discussion on TRICARE issues was especially appropriate," said veteran Henry Dorton following the forum. "In addition to active military, so many civil servants and reservists rely on TRICARE for their health care coverage."
The forum also produced a discussion about jobs for veterans leaving the service.
"I waited 14 months to get my disability claim processed," said Iraqi War veteran Jared McMullen. "And despite my advanced education degrees, I am still unable to find a job."
Making the appearance on Flag Day, Allen was asked if he would support an amendment to the Constitution banning the burning or desecration of the American flag.
"I am absolutely in favor of it," Allen said. "I think the Supreme Court was wrong in their decision. Desecrating the American flag is not expression, it's conduct."
Virginia is home to more than 340,000 active duty and reserve military members and their families. Additionally, over 823,000 veterans and military retirees reside in the Commonwealth.
"This was a great opportunity to be here today," said Staff Sergeant Jerome Schorr. "It speaks a lot of the candidate that he took advantage of an opportunity like this. It shows his focus is in the right place."
Photo Gallery
Veteran's Roundtable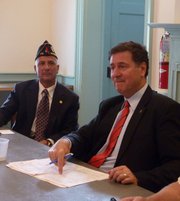 Click Photo for Flash