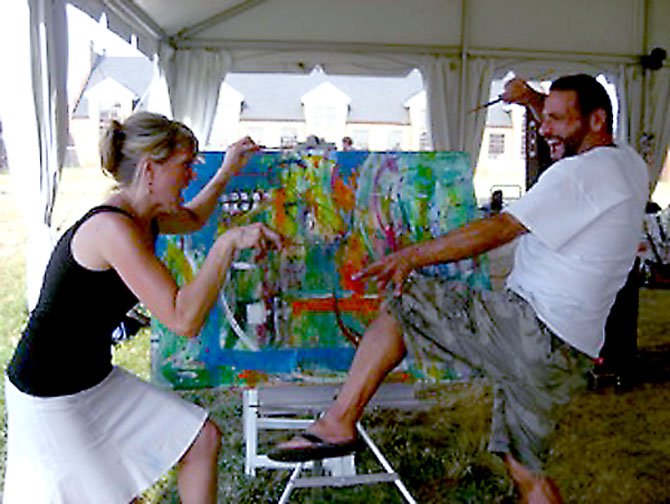 While a large portion of the community was daunted by the heat on Saturday, those that did show up to Art Out Loud at the Lorton Workhouse were met with the creative styles of Mary Gallagher Stout and John Gascot.
Stout is the founder of the Art Out Loud program, and started it three years ago with musical talent Ed Welsh, lead singer of the band Big Green Cherry. What makes Art Out Loud different from your everyday art event is the fact that the artists create their work right in front of you, while moving to the beat of the music.
"What's great about this event is the synergy between the performing and visual arts," said Camela Speer, Director of Marketing at the Workshop and a two year Art Out Loud veteran.
Individually, Stout and Gascot's styles are very different. Gascot's art is doused with hints of cubism and a Latin flare that speaks in "celebration of all the strong women I've had in my life," said Gascot. Stout's art revolves around issues that are important to her. However, the two are brought together by their love of bold colors, and together they entice the audience to become involved in their work as well.
"Painting live isn't a pretty process," said Stout. "Just like how a baby has to go through adolescence before reaching adulthood, there's an ugly side to art."
Part of what makes live art so inviting, is the fact that in some aspects, it is a taboo art form.
"The goal of the event was to entice visitors to the site who otherwise wouldn't have come, and to entertain the community," said Joseph Wallen, Director of Performing Arts and Film at the Workhouse.
For future events, Wallen aims to "make it a little cooler outside," in addition to bringing in more sponsorships for the local volunteers.
Despite the scrutiny that can comes with live painting, Stout and Gascot continue to "enjoy the adventure of working together." They will be performing their new show "Duets" on July 21 at the D.C. Center. For more information visit their blog at theartmonkeys.blogspot.com.
"We're always expecting it to be bigger," said Stout. "The point is to celebrate the community in addition to the performing arts."