After over a year's hiatus, the Workhouse Arts Center will be producing in-house productions of live theater once again. The productions will add to the already many offerings at the Workhouse. "We are very excited to return to in-house production starting with 'The Rocky Horror Show,'" said Joseph Wallen, director of performing arts, Workhouse Arts Center.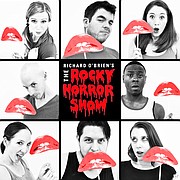 "The Rocky Horror Show" is the famous way-fun tribute to science fiction and horror B movies of not so long ago. It is an over-the-top musical that tells the story of a newly engaged couple who get caught in a storm and arrive at the home of a quite interesting scientist.

The Workhouse production is helmed by a talented Northern Virginia team including the director/choreographer team of Jeffrey Davis and Mary Payne with Musical Direction by Linda Rose Payne. There will be a 12 member cast for "Rocky Horror" along with a 6 member band to propel the proceedings. The show will run weekends during October.
When asked why "Rocky Horror" was selected to re-launch live theater at the Workhouse, Wallen said, "'Rocky Horror Show' quickly rose to the top of the list. For our first in-house production, it was also important to select a strong creative team. Jeff Davis and Mary Payne are the creative team behind Pandemonium Theatrical, and have produced outstanding shows. They also have a familiarity with the Workhouse as a theater venue."
One interesting detail: there will be special guests as the narrator of the show from time-to-time. The special guests are expected to be well-known local celebrities to add their own unique aspects to a "Rocky Horror Show" performance. "The role of the Narrator is very important to the storyline," said Wallen. "We decided to reach out to local celebrities and those audiences may recognize to make cameo appearances alongside our actor who is performing the Narrator role." The local celebrities and perhaps local officials are not ready to announce, but will be soon according to Workhouse staff.
"The film has been a cult mainstay for forty years, yet we are getting calls from ticket purchasers from college-aged fans who are just discovering the phenomenon as well as adults who have a more nostalgic outlook and were part of the original craze in the late 1970s. Seeing the cast in rehearsals and listening to our live band, it is clear we made a great choice," added Wallen.
Where and When
"Rocky Horror Show" performed at the Workhouse Arts Center, W-3 Theatre, 9518 Workhouse Way, Lorton. Performances: Oct. 7-30, 2016. Fridays and Saturdays at 8 p.m., Sundays at 5 p.m. Tickets: $20-$35 (General); $45-$55 (VIP). Call 703-584=2900 or visit www.workhouse.org.
Note: Limited seating, advance ticket reservations are recommended for this event. Reserved tickets may be collected at Will Call beginning 30 minutes prior to event, doors open for seating 30 minutes prior. For this production, the audience is allowed to wear costumes to any one of the performances. However, shoutouts are limited to one weekend; Friday, Oct 21 to Sunday, Oct, 23. Props for that weekend for those guests that would like to participate.