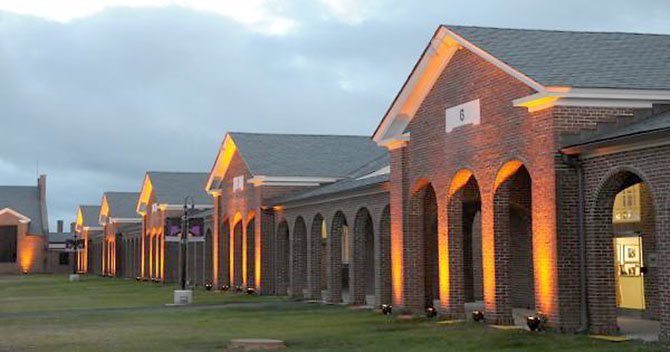 For visual arts, performances and education, the Lorton Workhouse Arts Center is the place to be this summer. More than 100 years ago, however, one of the region's most distinctive cultural arts center started life as a prison complex.
In 2002, after the Lorton Correctional Complex closed, 2324 acres were sold to Fairfax County. After several years of planning, the Workhouse Arts Center, a project of the Lorton Arts Foundation, opened to the public in September 2008.
The Workhouse currently consists of seven artist studio buildings, the main galleries and the recently opened Youth Arts Center.
In addition to visual arts, the Workhouse Arts Center is home to performing arts, including the Studio 3 Theatre for Young Audiences, the Workhouse Film Institute, musical and dance performances. The Education Department supports both the visual and performing arts, offering more than 150 classes and workshops each quarter.
Highlights of the summer season include art walking tours, festivals, education classes for children and adults and the annual Clifton Filmfest.
On Saturday, July 7, Art Out Loud 2012 will feature an all-star cast of artists and musicians celebrating the impact of art on our daily lives.
Dozens of artists will be on hand to present and discuss their latest artistic creations. The Art Monkeys - Workhouse artists Mary Gallagher Stout and John Gascot – will provide live painting demonstrations during the event. Live music will be provided by an eclectic musical roundup including: Thrive, Starryville, Big Green Cherry, the 2012 award winning Philadelphia Woodland String Band (A.K.A. the Mummers), Cartoon Johnny, and Shade Parade.
Attendees will have the chance to give back to the community by donating a can of food to Food for Others. Bring any non-perishable food items including tuna, canned beans, peanut butter and cereal.
End the night with a bang at the patriotic fireworks show at 9 p.m. Food and beverages to include soft drinks, beer and wine will also be available for sale. Suggested donation for the event is $5 per person.
If you want to start the day earlier, get there at noon and socialize during the 4th Annual Ice Cream Social. For $15, guests will receive a handmade bowl, created by one of the instructors or resident artists.
Children can enjoy a visit by Fairfax County Fire Department Station #441 and pony rides by Tamarack Stables. Tickets may be purchased onsite the day of the event. All proceeds benefit the Lorton Arts Foundation and the Workhouse Ceramics Program, and parking will be available on-site.
Visit www.WorkhouseArts.org or call 703-584-2900 for additional information.