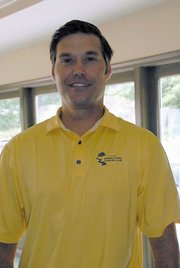 Hidden Creek golf pro, Josh Marr, plans to play 15 hours of golf Monday, July 23 for a good cause. Marr will start at Hole 1 on the Hidden Creek course around 5 a.m. and will play the course all day until dark. In 15 hours, Marr thinks he can play 125 holes of golf.
Marr is seeking pledges per hole played. In addition to collecting pledges per hole, supporters can caddy Marr around the course for $100 per hour. The money raised will go to Troops First Foundation, a national foundation that helps with the rehabilitation of combat-wounded veterans. Marr hopes to raise $10,000, all of which will go to Troops First.
Marr said a few years ago he was involved with a golf marathon fundraiser for cancer research. This year when he started thinking of doing another charity event, he thought he would couple his fundraising efforts with that of Hidden Creek. On August 4, Hidden Creek will be hosting another fundraiser also to support Troops First. Marr said he will add the funds he raises to what the Club raises in August. Last year, Hidden Creek was able to raise over $30,000 for Troops First. Marr hopes that with his fundraising efforts, the Club can reach a goal of $50,000.
Marr, who has been the golf pro at Hidden Creek since December 2010, was not in the military himself, but comes from a family with strong military ties. His father served in Desert Storm and his grandfather in World War II, Korea and Vietnam. At Hidden Creek, many of the members are military or former military. Marr says that he has received great support from Hidden Creek members.
"It has been a real pleasure planning this event. Everybody wants to pitch in and support it," said Marr.
"As a retired military member, having flown more than 200 combat missions and personally coming in contact, almost monthly, with many of those wounded in combat at the Walter Reed National Military Medical Center, I am gratified by Josh's efforts," said Hidden Creek member and fundraiser supporter, Col. Jerry Volloy. "Fundraising initiatives such as these mean so very much to those heroes that have been wounded in combat and to help them to deal with the future life challenges they face."
If all goes well on Monday, Marr will play the Hidden Creek course nearly seven times. Marr says he has been trying to plan his day.
"I can't wait. I'm going to stock up on power bars and energy drinks and play as much golf as possible," Marr said.