An upcoming golf tournament is a hole-in-one fundraiser for three local elementary schools.
The annual Celebrate Great Falls Foundation Golf Tournament will raise money for local students while giving grownups some fun in the sun at Reston's Hidden Creek Country Club on June 2.
"It's great seeing the communities rally around the schools," said Celebrate Great Falls Director Erin Lobato.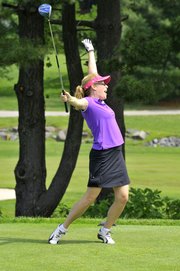 The first year when the charity tournament started, 12 people signed up for the cause. That has changed, according to CGF golf tournament Chairman Tim Burke.
"250 families participate now," he said. "We raised about $20,000 last year."
That money has been divided up between Colvin Run Elementary, Forestville Elementary and Great Falls Elementary since the tournament began just giving the money to the schools six years ago.
This year, money raised will fund an online math program for Forestville, an abundance of library books for Great Falls and updated iPads and laptops for Colvin Run.
"They're extremely generous and we're happy they included us for the past five or six years," said Forestville Parent-Teacher Association member and tournament committee member Kari Lervick.
She said the fundraiser is the second biggest for the school.
When and Where
Celebrate Great Falls Annual Tournament, June 2, 7:30 a.m. and 1:30 p.m. Hidden Creek Country Club at 1711 Clubhouse Road, Reston.
Morning individual tickets cost $140 and afternoon tickets cost $150. Foursome tickets also available.
Burke said he likes to know what the schools hope to use the money for every year.
"We've done Smart Boards and computer labs for Forestville and Colvin Run," he said. "While it may not pay for all of it, it helps."
He said schools in Great Falls do not receive as much money from the county because the tax base is higher in the village. To get the technology updates and books they need, they rely on fundraisers.
Lobato and Burke want the fundraiser to grow even more for this year's event. Lobato hopes new local families - in addition to the generation-after-generation locals - get involved.
"One of the things I'm always struck with is the sense of community," she said. "On the flipside, we have 250 families every year."
The foundation is also looking for 40 people to volunteer for the event, which is divided into a morning and afternoon playoff. Following will be a four-person scramble and an awards reception.
To sign up or volunteer, visit http://www.GreatFallsGolf.org