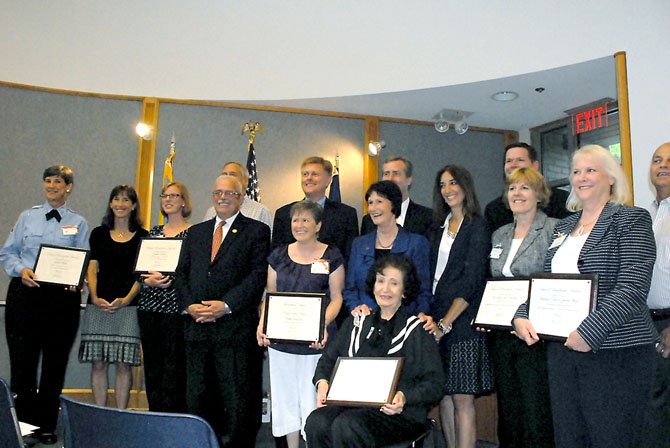 Braddock District Council of Community Associations and Braddock District Supervisor John Cook presented the Best of Braddock Awards Wednesday night, July 11. Six people were recognized for their volunteer efforts and two organizations for their contributions to the community.
Award winners, their family and friends, and community members enjoyed a picnic style dinner prior to the awards ceremony. Also in attendance were regional and a state political leaders including, U.S. Rep Gerry Connolly (D-11), (D-At Large), delegates David Bulova and Eileen Filler-Corn, State Senator David Marsden, and Fairfax County School Board Representative for the Braddock District Megan McLaughlin. Bill Barfield, chairman of the Braddock District Council of Community Associations, served as the emcee.
"For tonight's winners, their hard work is all about community. They set an example for those who follow them. These volunteers are an inspiration. They step up to go the extra mile," said Cook prior to the event.
"This is the most noble grassroots level of governance. These volunteers are looking out for their community. Volunteers might do something small, like organizing a parade or picnic. These types of events, however, build up a sense of community, so when you have an event like a power outage," said Bulova referring to the recent derecho storm and power outages, "you have an intact sense of community that can then deal with the crisis, look out for each other and work toward a solution."
"My personal ethos is bloom where you are planted," said Connolly. "The volunteers we are recognizing this evening share that ethos. These volunteers work 24-7 to make our community vibrant."


DAWSON TAYLOR was recognized as Young Person of the Year. Taylor, a student at Frost Middle, exhibits "a generous and responsible nature," according to his nominating biography. Taylor is an assistant patrol leader in Boy Scout Troup 1525 and plays sting bass in the school orchestra. For his school service project, he played solo piano concerts at a number of retirement communities. He also sings in the school chorus and church choir.
Katherine Stramel was recognized as the Most Can-Do Public Employee in the District, State Level. As Community Relations Specialist at the Annandale Campus of Northern Virginia Community College, Stramel has been instrumental in informing Braddock District residents about NVCC actions and events that could affect the community. Stramel has also been helpful in resolving concerns or issues that residents raised, including issues about construction noise, nighttime light pollution and traffic. She has also worked hard to establish a dialogue with the community through neighborhood meetings.
Gaela Hime was recognized as the Most Can-Do Public Employee in the District, Local Level. For 27 years Hime served as a crossing guard for three schools: Robinson Secondary, Oak View and Laurel Ridge elementary schools. Every year she learned the names of the children and the parents who she helped to cross the street before and after school.
The Burke Centre Conservancy was selected for its achievements in Neighborhood Enhancement or Beautification by a Community Association. Over a three-year period The Burke Conservancy has worked to clear sediment in five conversancy-owned ponds and rebuild gazebos and bridges in those areas.
Shepherd Center of Fairfax-Burke was recognized as the Organization Making a Difference in the Braddock District. The Shepherd Center's mission is to provide life enrichment opportunities and life support services to older adults in the Fairfax-Burke community so they can continue to live independently with a sense of purpose and dignity.
Lisa Carroll accepted the award for the Shepherd Center. She said it "was exciting when we found out we were going to be recognized." The Shepherd Center has a roster of 108 volunteers serving more than 800 senior citizens in the Burke-Fairfax region. The Shepherd Center offers luncheons, continuing education classes, exercise, transportation to doctor's appointments or shopping for senior citizens in the Burke-Fairfax area. Just in the last month, said Carroll, volunteers at the Shepherd Center provided 89 trips.
Patrick Gloyd was recognized as the Most Outstanding Business Person. Gloyd serves as CEO, manages staff, and coordinates administrative support for various Burke Centre resources. Gloyd serves as a liaison to the Business Development Committee, a member of the Pohick Creek Watershed Advisory Group and a liaison to the Burke Centre Parkway Pedestrian and Motorist Safety Task Force. He has overseen the updating of five community centers. He has also worked with Fairfax County to improve access to the VRE station by adding and updating Burke Centre paths.
Marian Hardy received a Special Recognition Award for her support of the Annandale Christian Community for Action by organizing annual food drives at Briarwood Court Condominiums for the last 22 years.


KATHY AUGUSTINE was recognized as the Braddock District Citizen of the Year. According to her nominating biography for the past 20 years Augustine has worked "quietly and effectively" in a variety of roles. She has worked for many years with Catholic Charities and opened her home to at-risk pregnant women, providing them shelter and support during their pregnancy. She also used her skills as financial specialist to help seniors prepare and submit their income taxes. Additionally, when Old Forge and Surrey Square Homeowners' Associations decided to combine into one association about four years ago, Augustine was instrumental in making that a reality. She has served as the treasurer of the combined association for the past four years.
Augustine said she was "overwhelmed" when she found out she was to be awarded this recognition. "I greatly appreciate the nomination and the award," said Augustine.