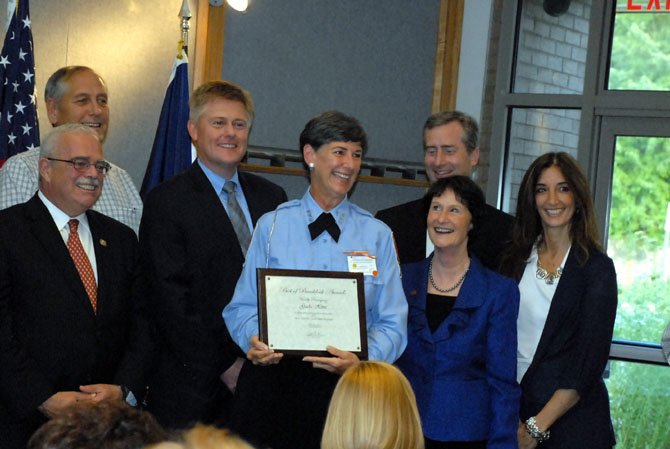 When Gaela Hime started out as a crossing guard, 27 years ago, or "back in the day," crossing guards had to wear skirts and high heels. "We had to wear white gloves and our nylons could not have runs in them," she remembered Wednesday at the Best of Braddock Awards Picnic and Ceremony.
Hime received the Most Can-Do Public Employee in the District (Local Level) Award for her commitment to the community as a crossing guard for three area schools: Robinson Secondary, Oak View and Laurel Ridge elementary schools.
Hime began working as a crossing guard when her son entered kindergarten. Hime initially applied for a job as a bus driver and had begun training when she heard there was a need for crossing guards.
"I have had so much fun learning the kids' names and the names of their parents and even their dogs. There were perhaps about 10 names each year I didn't learn."
Hime was nominated by Lisa Waldrop, a member of the Robinson Secondary PTSA. In her nominating essay, Waldrop wrote that what makes Hime "exceptional is her ability to remember the names of the students and parents she has dealt with over the years. Children, boys and girls alike, stop to give her hugs or high-fives. She will always be remembered for her smile as she assured us safe passage when we crossed the street every day for the last 27 years."
As a crossing guard, Hime developed a special connection with the student patrols. She joked that she even tried to teach the patrols proper grammar while working with them. "You never begin a sentence with 'Me.' I tried to teach them that," she laughed.
In her 27 years as guard she worked with numerous patrols, the older of whom are now grown with families of their own. Hime said recently she became reacquainted with one of the patrols who is now herself an elementary school teacher with young children.
Hime retired on May 18. She lives in Kings Park West.