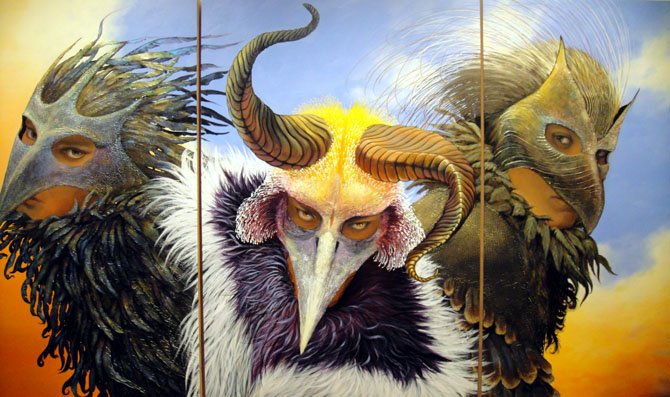 Veteran Torpedo Factory artist Susan Makara was honored on Thursday, July 12, with an official award ceremony as the 2012 Artist of the Year.
Organizers of the Artist of the Year estimate estimated close to 150 people attended the grand reception of Makara's work. Makara's paintings are featured at the Target Gallery, where her solo exhibition, "Masks," includes the most complete collection of her work to date.
"To have this happen, after 18 years in the Factory, it's wonderful," said Makara. "It's like a dream come true."
The Masked Gallery
Work by Susan Makara, the 2012 Torpedo Factory Artist of the Year, can be viewed at the Target Gallery at the Torpedo Factory until July 29. The solo exhibition is the most complete collection of her work to date, and there is a story behind each of her masked paintings.
Those in attendance included Debbie Davis, an 8th-grade classmate who has collected several pieces of Makara's work. "She's always been a fabulous artist," said Davis. "After 30 years her work has evolved, but it's always fabulous."
A total of nine applicants submitted work for the distinction, and assistant dean of fine arts at Northern Virginia Community College, William Schran, juried the event. Schran noted the mystery behind Makara's masked figures, and the emotional narrative they convey, as principal reasons for his selection. "The viewer knows there is a story, but is not sure who is looking at whom," said Schran.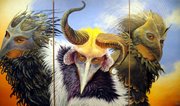 One aspect of Makara's artistic style is to attach anecdotes with each of her pieces. Makara's personal favorite is "Capricorn Rising," although this was not the original title. As she notes, a colleague asked why her work was named "Aries Rising," and without a proper answer the artist performed a Google search for other names. Makara discovered the Sanskrit translation of Capricorn is her last name, which proved to be the obvious title for her work.
For Makara, creating art is intensely personal, and her advice to established and aspiring artists alike is to embrace that fact. "Don't paint for others," said Makara. "You have to follow your heart and your passion."