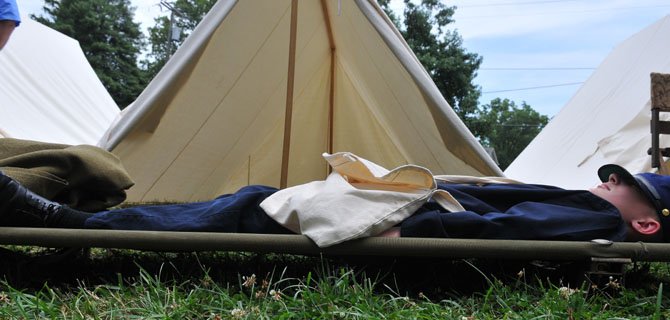 Reenactors from both the North and the South camped out in the small park beyond the entrance to Mount Olivet's Church on North 16th Street in Arlington on Sunday, July 15. Members of the Confederate troops of the Army of Northern Virginia set up camp along with Union troops. George Dodge portrayed the Union sentinel, William Scott of Company K, 3rd Vermont Infantry, who inadvertently fell asleep at his post guarding Chain Bridge after being on guard for 48 hours.
Photo Gallery
Mount Olivet Relives War between States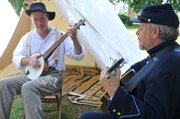 Click Photo for Flash
Scott was sentenced to death by a court-martial. He has pardoned by President Abraham Lincoln in the 13th hour after being taken to his place of execution at the now intersection of Route 123 and the George Washington Memorial Parkway.
During the war, the church was used as a military hospital. The cemetery holds the graves of soldiers from both sides of the conflict. A new memorial to all those buried in the church cemetery has now been erected.
Local historian Hank Hulme remembers one particular grave.
On the eve of April 25, 1865, Susan Hutchinson Adams (later Susan Hutchinson Adams Vaughan) (1835-1911) summoned the ladies and young girls of Jackson, Miss. to meet the next day at the Greenwood Cemetery to spread flowers on the graves of fallen soldiers. The next day, April 26, as flowers were being placed on the graves, she saw that the graves of Union soldiers did not have flowers on them so she urged her lady friends to garland them anyway. Thus begin the custom of decorating the graves of fallen soldiers, regardless of which side of the battles they fought. The custom later became known as Decoration Day and earned official recognition. In 1882 it was renamed Memorial Day.
On April 26, 1865, in Greenwood Cemetery, in Jackson Miss., among the many Southern and Northern soldiers' graves, Adams, directing her attention to the undecorated graves of the Northern soldiers declared "I will garland them with pink roses for the mothers and sisters sobbed prayers as they marched away."
She died July 22, 1911 at the Masonic and Eastern Star Home in the District of Columbia and was buried next to her sister Sallie Adams in the "Adams" burial plot in the Mount Olivet United Methodist Church cemetery.