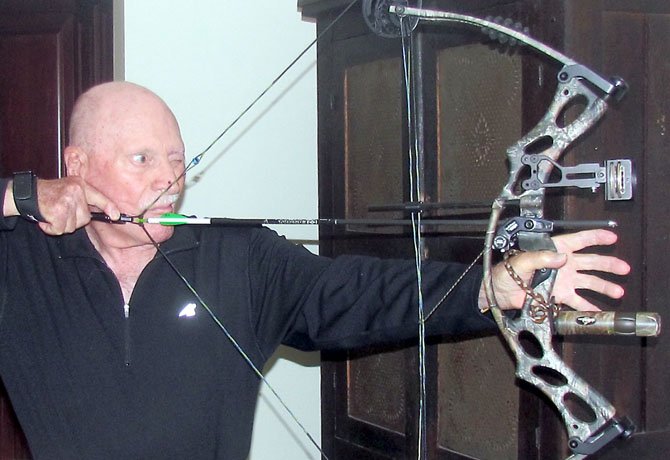 Not long after "The Hunger Games" blockbuster created a buzz around the sport of archery, Greenspring resident Charlie Edwards shot for gold at the Virginia Senior Games in May. Edwards picked up a bow and arrow for the first time just six months ago, when fellow resident, 79-year-old Jack Cason, encouraged him to join the Archery Club at Greenspring, their retirement community in Springfield. Cason himself received a gold medal in his own age group this year at the Virginia Senior Games, and was a gold medalist at the National Senior Games last year in Houston. "Charlie listens to instructions and he doesn't question it; he takes my advice and tries to improve himself," said Cason, who has been working with Edwards in improving his technical form and choosing the right equipment.
While Edwards had never tried his hand at archery before moving to Greenspring, he was on the wrestling team at Lehigh University and in his later years grew fond of golfing and fishing. He was a Navy fighter pilot during World War II, but left the Navy to work for the Atomic Energy Commission until retirement. Edwards does find some similarities in his military service and his newfound interest in archery. "Instead of pointing my airplane at a target, now I'm pointing my bow and arrow." Edwards also appreciates the independent nature of archery. "Much like golf, you are completely responsible for how well you do," said Edwards. "You can compete against yourself."
Edwards was encouraged to sign up for the Virginia Senior Games by Cason. He received a gold medal in his age group for the 600 Round, comprises shooting 20 arrows at 60 yards, 50 yards, and 40 yards. "I told him if he could hit a 60-yard target, he had a good chance at qualifying for the National games." That he did; now he is focused on improving his technique for the National Senior Games being held in Cleveland, Ohio next summer.