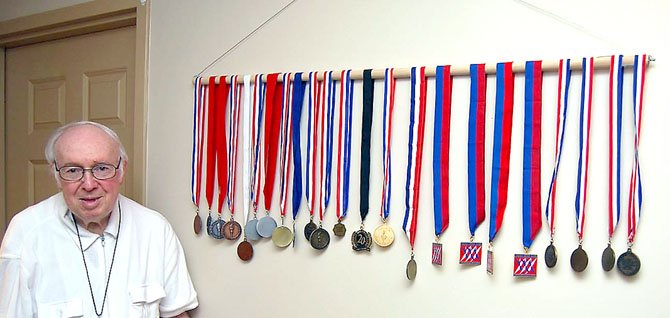 Greenspring resident Dr. Dick Ernst is no stranger to local, state, and national senior games; he first attended the National Senior Games in 1999 held in Orlando, Fla. as a member of a seniors' basketball team. Since then, he has attended numerous national games, as well as the Virginia Senior Games and the Northern Virginia Senior Olympics. During the May 2012 Virginia Senior Games, Ernst was awarded a gold medal for his age group (75-79) in the 50m dash and the long jump, as well as a bronze medal in the 100m dash. Ernst will be headed to the National Senior Games in Cleveland, Ohio next year to challenge other senior athletes around the country. "I do it to stay in shape and to live longer," says Ernst. "And I enjoy it!"
Ernst spent 30 years as the President and CEO of Northern Virginia Community College, which now has six campuses across the northern region of the Commonwealth. During his time at Northern Virginia Community College, Ernst received recognitions such as "Washingtonian of the Year" by Washingtonian Magazine and "CEO of the Year" by the Association of Community College Trustees. Ernst retired in 1998 and moved to Greenspring retirement community in 2006. "Greenspring's a great place to be," said Ernst, who spends an hour each day working out in the community's fitness center.
Ernst, who has won five state basketball championships in Virginia's senior games, recently started competing in track & field events in 2011; in the 2011 Northern Virginia Senior Olympics, he received a gold medal and two silver medals for the 60-meter run, standing broad jump, and long jump.
Ernst participates in activities across Greenspring's campus and in his local church's traveling singing group, but always makes sure he sets aside time for exercise. "It can help to extend your life; it's crucial to exercise as you age," said Ernst. Ernst, who is 79, says he won't mind competing in a new age group soon. "It's always good to be the young guy."