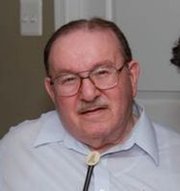 Holocaust survivor Michel Margosis is one of an estimated 1400 unaccompanied European children brought to the United States from 1933 and through World War II. Each year at the U.S. Holocaust Memorial Museum, Margosis gives a presentation through the "First Person" program which is free and open to the public, and features the stories of Holocaust survivors and volunteers. On Tuesday, July 31, Margosis will give his next "First Person" presentation at 1 p.m.
Margosis was born on Sept. 2, 1928 in Brussels, Belgium. There, his father was the owner and editor of two newspapers that favored the Zionist cause, one published in Yiddish and the other in French. On Sept. 3, 1939, just one day after Margosis turned 11 years old, France and England declared war on Germany; at that time, Margosis's father was at a Zionist convention in Geneva, so when Belgium was attacked, Margosis, his siblings, and his mother fled to France. The family ended up in a detention camp where refugees were interned, but escaped after just one night. They spent the next couple of years moving throughout France in dangerous conditions until eventually escaping on foot over the Pyrenees Mountains into Spain. While in Spain, the family was separated, and as the youngest child, Margosis was sent to an orphanage. In June of 1943, at age 14, Margosis was sent unaccompanied on a ship to the United States. He became a U.S. citizen as soon as he qualified and in 1952, enlisted in the U.S. Army. In 1965, Margosis began working as a chemist with the U.S. Food and Drug Administration where he remained until retirement in 1990.
Margosis has lived at Greenspring retirement community in Springfield since 1998. At Greenspring, he chairs a French Conversation Group, is a member of the Democratic Club (which he once chaired), and was active in starting a Parkinson's support group. Outside of Greenspring, Margosis is the Lee District appointee on the Fairfax County Human Rights Commission. According to the County website, "the Commission takes the approach of not only receiving and investigating complaints alleging a violation of the Human Rights Ordinance, but also of cooperating with the employers, the housing industry and other businesses in the County to make sure we all understand our duty to ensure equal opportunity and equal access." He was first appointed to the Commission in 2003.
Additionally, Margosis was also a driving force in calling for a Holocaust Remembrance Day in Fairfax County (which this year fell on Thursday, April 19). He has been a member of the speaker's bureau at the U.S. Holocaust Memorial Museum in Washington, D.C. since the Museum opened in 1993.