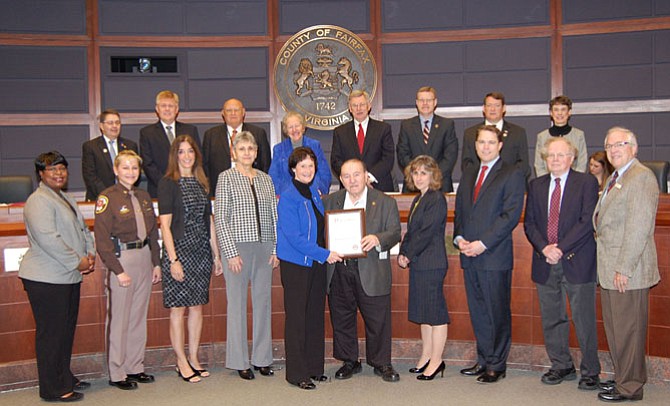 Holocaust survivor Michel Margosis spoke before the Board of Supervisors, Tuesday, April 7, when the Board of Supervisors made a proclamation declaring April 16 as Holocaust Remembrance Day in Fairfax County.
The proclamation serves "to urge all residents to not bear silent witness to injustice and remain always vigilant to the principles of individual freedom and a just society," said Sharon Bulova, board chairman. "It is so important that we not ever forget."
Six million Jewish women, men and children were killed by the Nazis.
"The spark of evil flared into a raging fire that swept over much of Europe, the residual embers of discrimination, bigotry and intolerance have never been extinguished and have been reinvigorated," said Margosis.
Margosis said he joins in mourning the millions of others murdered by the Nazis including gypsies, priests, homosexuals, Jehova Witnesses and political prisoners.
"We must embrace our expanded diversity," said Margosis.
"At some point, there won't be anybody left who actually experienced the horrors of the war at that particular time, but that is part of your legacy to pass that along and to pass that along to younger people so nobody ever forgets," said Supervisor Penelope "Penny" Gross. "What you do makes sure we will always remember and never forget."
Holocaust Kaddish: Never Forget
Jewish Community Center of Northern Virginia 8900 Little River Turnpike, Fairfax
Sunday, April 19, 5-8:30 p.m. www.jcouncil.org/Ho…
MARGOSIS INVITED the Board and entire Fairfax County community to an observance at the Jewish Community Center on Sunday, April 19 from 5 to 8:30 p.m.
"We have a responsibility to those who perished as well as those who survived to educate future generations and rededicate ourselves to the history of the Holocaust and its impact on the world," said Chairman Sharon Bulova.
More than two dozens synagogues, houses of worship and nonprofits, plus Holocaust survivors, youth and interfaith leaders will join the Jewish Community Center of Northern Virginia Sunday, April 19 for the annual observance.
The program includes a reading of names of those murdered in the Holocaust, "Unto Every Person There is a Name," a youth workshop and an adult seminar on "The Psychology of Scapegoating."
"I always try to participate in that observance, it is one of the most powerful things we do," said Supervisor Gross.
"We will consider the intricacies of human nature and social interaction that allow for unspeakable atrocities to be committed by some individuals or groups against others. With hope, we will look at strategies that have succeeded in mobilizing the silent bystander and raising up societies to take a forceful stand against injustice and inhumanity," according to JCC of Northern Virginia.
THE EVENING is scheduled to culminate in a community commemoration with readings, poetry, a community interfaith choir, recitation of the Holocaust Kaddish and the intergenerational candle lighting and pledges of the children and grandchildren.
"Many of us come to the Jewish Community Center to read the names of individuals who lost their lives, who perished, who were murdered during the Holocaust," said Chairman Bulova. "I think it is a very powerful thing that our community does, it is so important, so very important not to ever forget what had happened."