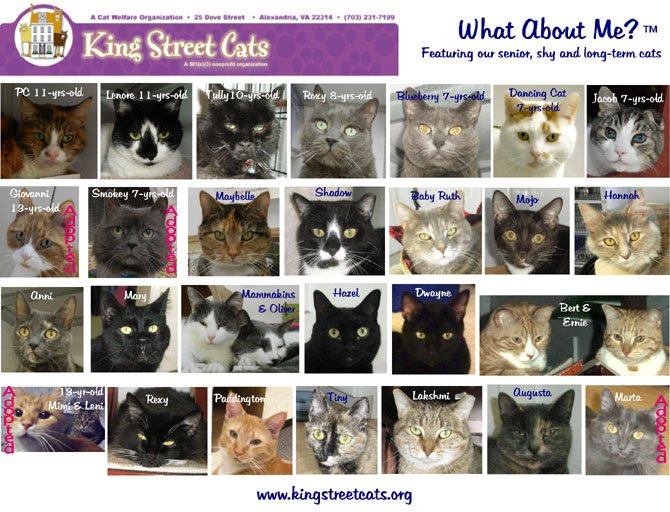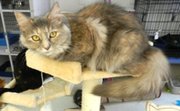 Alexandria — Mature and shy cats at animal shelters do not make immediate impressions, and are often overlooked by the young and outgoing. Through no fault of their own, these cats have a difficult time finding a loving home.
King Street Cats, an Alexandria-based no-kill animal shelter, campaigns for such cats with a label and a question: What about me?
"Kittens adopt themselves, but we want to feature the shy, old and long-term. They sit back and say, how do I compete with a cute fluffy six-week old," said Allie Phillips, author and volunteer with King Street Cats. "The goal is to keep featuring these cats, we give them a voice and ask, what about me?"
The What About Me campaign at King Street Cats is in its second year, and organizers have put together a film set to the music by the Moving Pictures band. The film, which can be viewed through the shelter website, offers biographical information on many of the What About Me cats. Last year volunteers at King
Street Cats placed 13 of the 22-featured cats into new homes.
Chris Diongi, an auxiliary police officer in Arlington, picked his cat Buddy from the previous What About Me Campaign. "The cat was so grateful to have a home, he displays an amazing level of affection," said Diongi. "When kittens can't find a home, there's no chance for elder cats. King Street Cats is dealing with a serious but not recognized problem."
Although many of the What About Me Cats come from families who put their cat up for adoption, other cats come from more unfortunate circumstances. Cars, foxes and diseased animals endanger cats that live on the streets, and when a cat is front-declawed the chances of survival are slim.
Although King Street Cats is a no-kill shelter, when cats stay long term they take up limited space that might otherwise be available for others. This year organizers hope to find homes for 30 felines through the What About Me campaign.
"We want to find homes for shy cats that will blossom," said Phillips. "We hope people will look at them online, they're docile and wonderful."