Alexandria — Mark your calendars, clean your palates and prepare for the fourth annual Taste of Del Ray, sponsored by the Del Ray Business Association. The event will take place on Sunday, June 3 from 1 to 3 p.m. This year's celebrity chef is Rock Harper — winner of Season 3 "Hell's Kitchen" — the Gordon Ramsey cooking competition on FOX-TV.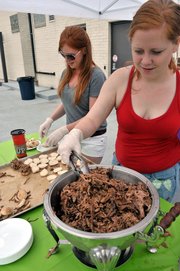 Harper, the event's second celebrity chef, will taste each dish and choose a restaurant to receive the Judge's Choice Award. For the first time, he will also choose runners-up. People at the event will select a restaurant for the People's Choice Award.
Over a dozen neighborhood restaurants, including last year's winners, Taqueria Pablano and The Evening Star, will participate in the outdoor competition that will be held in the lot behind the Virginia Commerce Bank at 2401 Mt. Vernon and E. Oxford Avenues, Alexandria.
Tickets are $10 per adult and $5 for children under 12 years of age and can be purchased ahead of time at the Del Ray Farmer's Market (Mt. Vernon and E. Oxford) on Saturday, June 2 from 8 a.m. to noon or on the day of the event beginning at 12:45 p.m.
Participating restaurants will include Artfully Chocolate, Caboose CafÈ, Cheesetique, Del Ray CafÈ, Del Ray Pizzeria, Evening Star CafÈ, FireFlies, The Happy Tart, LaStrada, Monroe's, Pork Barrel BBQ, St. Elmo's Coffee Pub, Taqueria Pablano and A Thyme & Place.
The winners of both the Judge's Choice and People's Choice Award will be announced just after 3 p.m.
To add to the fun and festivities, performing in the lot of the Del Ray Farmer's Market during the Taste of Del Ray will be one of the area's most popular rock and roll bands, Elroy Jenkins. The band has played at other local events, including the Del Ray Music Festival and First Thursday, as well as at local clubs. Another local band, FeelFree, whose music combines blues and reggae, will open for Elroy Jenkins from 12-12:45 p.m.
Taste of Del Ray began as part of Del Ray's First Thursday, a series of summer evening activities. It became a stand-alone event four years ago and has grown each year. Gayle Reuter, board member of the Del Ray Business Association, said via e-mail that she expects over 1,000 participants this year.
Reuter said that Del Ray "is blessed to have such [a diversity of] restaurants" and that the event allows local restaurants to showcase various foods. Winning foods last year ranged from a vegetable side to an entrÈe. This year's menu includes ice cream, Ethiopian cuisine, Gazpacho, crepes and petit fours, among other foods.