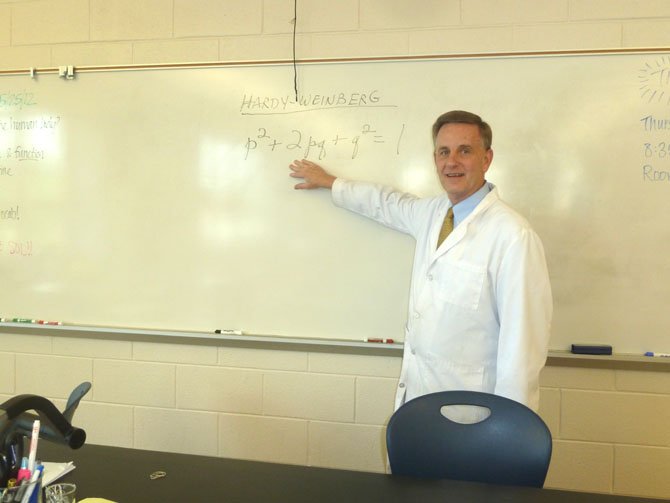 Alexandria — "I've been very lucky to have a career where I truly do look forward to coming to work every day," said T.C. Williams High School Science Department Chair David Keener, who will retire this month after teaching Advanced Placement Biology at TC for 22 years.
Keener, who knew since middle school that he wanted to teach, earned a master's degree in biology at Villanova University and taught at Bishop Ireton and Paul VI before coming to TC. "[All the schools] have something special about them," said Keener, [but] there are so many things about TC that are fantastic, which is why I've stayed around."
According to Keener, the most rewarding aspect of teaching is witnessing the progress that students make from September until June. "In my subject, [some] students [come in] very afraid and unsure and hopefully by June they leave very confident in their ability to understand biology and, in my case, to handle a college-level class."
Keener's favorite topic to teach is molecular biology, including biochemistry, DNA and biotechnology. "The more we learn about that [the better] we can cure diseases," he said. "It's where all the research is today."
Since Keener has taught at TC for over two decades, he has seen changes in the school's educational approach. "We went from a situation where teachers basically developed their own curriculum to now where we have standard curriculum [in each subject]," he said. The Standards of Learning exams also were not administered when Keener arrived. He supported the standardization because, in his view, it allows students to learn essential information in each class.
In his free time, he enjoys playing tennis. He coached the TC boys varsity tennis team for eight years and then became an assistant coach for the girls tennis team. He would also like to learn to cook. He said that, if given the opportunity to enroll in a TC course, he would choose culinary arts. "If it doesn't come out of a can or a box, I can't cook it," he said.
Next year, Keener plans to move to Florida. He expects to pursue a part-time job, although it will not relate to teaching. "I'd like to explore other avenues," he said.
As his teaching career ends, Keener reflects on the legacy he has left at TC. "I think my mark is that … I presented a challenging class appropriate to the level of the student," said Keener. "Hopefully … because of that I have excited people about biology and encouraged some people to pursue medical careers, or at least pursue science as a major in college."
TC senior Elena Bischak, who will attend the College of William and Mary in the fall, said that Keener influenced her decision to pursue a career in medicine. "I was interested in biology before taking AP Biology, but [Keener] completely sold me," she said via Facebook. "I plan on majoring in biology and going on to [medical] school."
TC senior Joseph Powers, who will attend the University of Virginia, agreed. "Mr. Keener so fully invested himself in our success that we could not help but do the same," he said via Facebook. "We learned more than biology in his class. He taught us how to turn passion into dedication, and I think we will carry those skills with us for the rest of our lives. [The school system] will never find someone to replace him."