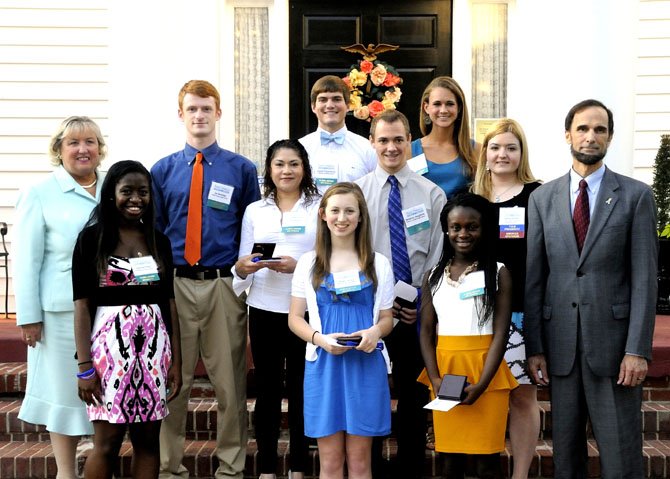 Nine high school students were recognized and awarded 2012 Education Partnership Scholarships at a May 31 reception by the Mount Vernon-Lee Chamber of Commerce. The scholarship recipients are Ian McKellips and Valerie Manu, Mount Vernon High School; Benjamin Dougherty, Thomas A. Edison High School; Abigail Jacobs and Sarah Jane Underwood, West Potomac High School; Joseph Fitzsimmons and Rachelle Powell, Hayfield Secondary School; Erika Saravia, Bryant Alternative High School, and Katherine Pfleeger, The Madeira School.
"The Mount Vernon-Lee Chamber of Commerce feels very strongly that an investment in education looks to the future with an eye on improving individual lives, our workforce, and our community," said Barbara Doyle, Chamber president.
"Providing these scholarships helps prepare future business and community leaders," Doyle said. Since 1997, the Mount Vernon-Lee Chamber of Commerce has awarded more than $112,000 in scholarships to local students.
Receiving the Jeff Todd Memorial Scholarship was Erika Saravia from Bryant High School. Todd was a former chairman of the chamber of commerce and owner of the Roy Roger Restaurants in the area. He had a great love for the schools and students. Many friends and businesses contributed to establish this memorial scholarship.
"The commitment the chamber makes to ensure scholarships each year is extraordinary," said Holly Dougherty, executive director of the Chamber of Commerce. "The youth are the future, and these scholarships are an investment in the future of our community."
The 2012 Education Partnership recipients are a talented group with a range of activities and interests.
Erika Saravia, Bryant High School, will attend NOVA where she plans to pursue a medical career and work as a medical assistant to help the community where she lives.
Joseph Fitzsimmons, Hayfield Secondary School, will attend the University of Virginia, where he plans to study business and systems engineering and says he "can't wait to make his own contribution to the business world."
Rachelle Powell, Hayfield Secondary School, will be the first person in her family to attend college. She plans to attend Stevenson College in Maryland and pursue a degree in accounting.
Ian McKellips, Mount Vernon High School, will attend Auburn University. His experience with a family lawn mowing business has led him into the business world.
Valerie Manu, Mount Vernon High School, is excited to explore her horizons at Virginia Commonwealth University where she plans to study international business.
Benjamin Dougherty, Thomas A. Edison High School, credits his IB Business and Management Class as well as the Edison Leadership Class with helping him develop as a business leader. He will attend Brigham Young University.
Abigail Jacobs, West Potomac High School, plans to attend the College of William and Mary and the Mason School of Business where she can combine a business major with her international experience.
Sarah Jane Underwood, West Potomac High School. Sarah Jane's experience working at a local business has led her to pursue a business degree at the University of Pennsylvania. She plans to emphasize finance or accounting.
Katherine Pfleeger, The Madeira School, will attend Stanford University where she will pursue dual degrees in engineering and business "to gain the real world skills needed to translate my technical skills into services that are both valuable and understandable to companies and communities."