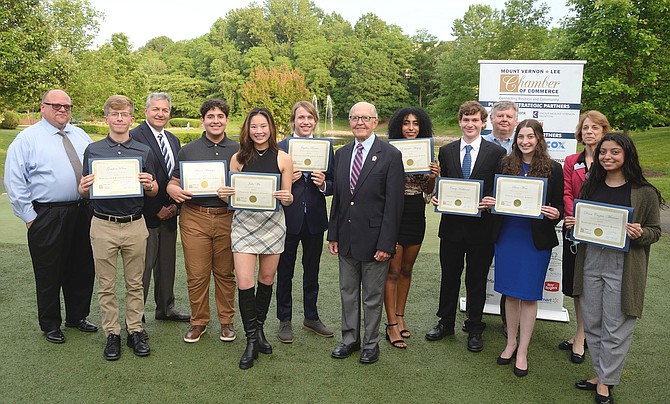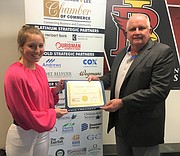 Ten scholarships were awarded to local high school students by the Mount Vernon Lee Chamber of Commerce to recognize outstanding achievement of 2021 graduating seniors planning to continue their study in a business-related field.
The 2021 Distinguished Business Scholarship recipients are Bemente Abegaz, Lewis High School; Ryan Bowers, West Potomac High School; Jayden Brown, Edison High School; Dina Cazun-Moreno, Hayfield Secondary School; Elizabeth Hutchison, Bishop Ireton High School; Craig Kalkwarf, South County High School; Gershon Price, Lewis High School; Marcos Montoya, Mount Vernon High School; Sara West, South County High School; Julie Wu, West Potomac High School.
Brigadier General Retired Robert Jorgensen, president of the Army Retirement Residence Foundation – Potomac at The Fairfax Retirement Community spoke to the awardees about his education and career encouraging them to "never give up."
"What an honor to have General Jorgensen share his wisdom with the students," said Mark Murray, Chamber Chairman.
"The Fairfax provided a lovely venue to present the scholarships and meet the families," said Murray. "We saw how excited the parents were for their children to receive these awards."
Many scholarship recipients will be the first generation of college students in their families and expressed their appreciation to the businesses that provided scholarships to help them achieve their dream of attending college.
"The commitment the chamber makes to ensure scholarships each year is extraordinary," said Holly Dougherty, president of the Mount Vernon Lee Chamber of Commerce. "Our youth are the future, and these scholarships are an investment in the future of our community."
Scholarships are made possible by the generous donations of local businesses. Businesses that provided complete scholarships are Covanta Fairfax Inc., Clearpath Solutions Group, Cisco and Ourisman Automotive dealerships.
This continues the Chamber's annual tradition of providing scholarships to students planning to study business. The Chamber has awarded scholarships for more than 20 years and these scholarships totaling $20,000 brings the Chamber's cumulative scholarship giving to more than $250,000.