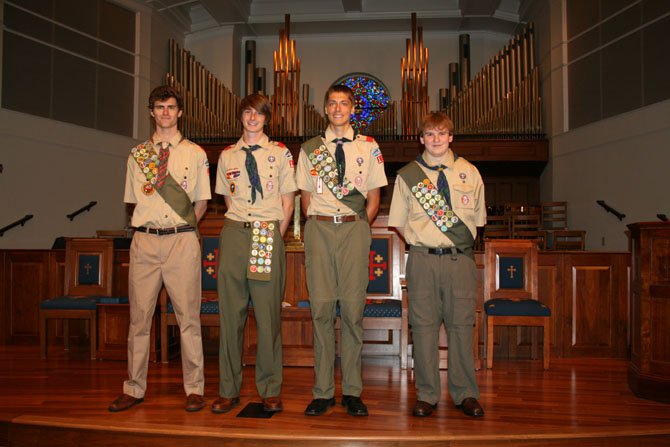 Four Alexandria City Boy Scouts received their Eagle Scout Award, Boy Scout's highest honor, in a ceremony on June 2 at Westminster Presbyterian Church, Alexandria. The young men are all members of Boy Scout Troop 129. They became the 86th, 87th, 88th and 89th members of the troop to be so honored since 1943.
The scouts being honored are Nick Braun; Burt Brown-Glazner; Caleb Vogt; and Alexander Wolz. To earn their Eagle Award, the young men each earned a minimum of 21 merit badges; served as leaders in their troop; and completed a major service project.
For his service project, Nick organized the remodeling of Mt. Vernon Community Center's butterfly garden. Burt oversaw the construction of a tool shed and repair of a stone path in the community garden at Cora Kelly Elementary School. Caleb supervised the improvement of hiking trails at the Dora Kelley Nature Center. Alex repaired a storage shed at ALIVE! Child Development Center and built two raised garden beds.
Caleb and Nick are seniors at T.C. Williams High School, where Alex is a junior. A 2011 TC graduate, Burt is a rising sophomore at Radford University, studying geospatial science.