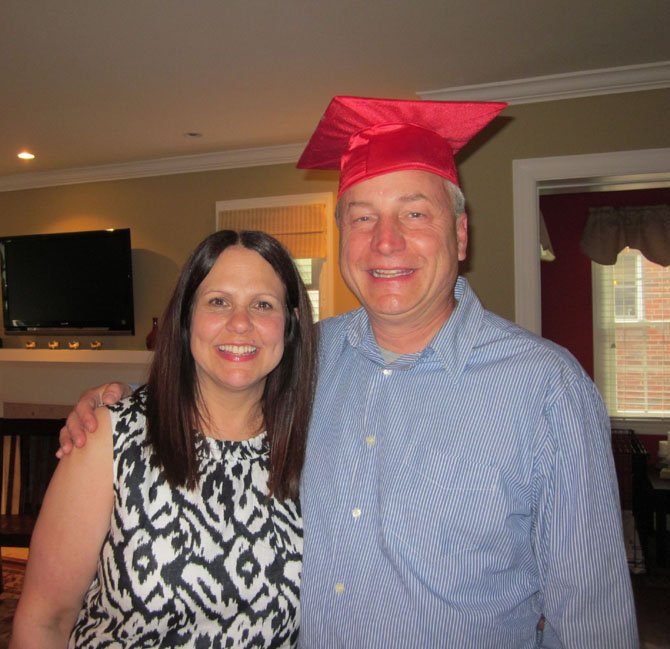 For Alexandria Sheriff Dana Lawhorne, it was a goal 36 years in the making: to complete the college degree he started back in 1976 after graduating from T.C. Williams High School.
"It's nagged at me my whole adult life," said Lawhorne, who was five classes short when he left Northern Virginia Community College after getting hired by the Alexandria Police Department in 1979. "Since I was 14 years old, I wanted to be a cop. When I was finally hired, I felt like I had gotten what I wanted. But quitting is the wrong message to send, to my family and to the young people that I talk to about careers."
After returning to school last year, Lawhorne graduated from NVCC May 12 with a 3.0 GPA and a degree in administration of justice.
"I'm so pleased for Dana on this success," said ACT Executive Director John Porter, who was Lawhorne's seventh grade social studies teacher and eighth grade crisis counselor. "He's done so much over the years for others and our community. It's nice seeing him take the time to do something he's wanted to do for years for himself."
The road to success was not an easy one for Lawhorne, the child of parents who suffered from alcoholism.
"He has overcome a lot," said former APD officer Bill Pickle, who befriended Lawhorne when he was still a young teen hanging out on Commonwealth Avenue. "Dana doesn't give himself enough credit. Not many people could do what he has done."
Lawhorne credits Pickle and Del Ray neighbors Mary Jones and Marion Knoernschild for looking out for him during those difficult years.
"I've been lucky to have some very influential adults in my life," Lawhorne said. "No one ever told me I could do it. No one even talked to me about college until Marion dragged me up to NOVA herself and told me I needed to start taking classes."
Knoernschild's son Tommy remembers his mother's concern for Lawhorne.
"My mother definitely kicked his butt," Tommy Knoernschild said. "She saw the potential in him and was determined not to let it go to waste."
Lawhorne did not attend his graduation, which happened to fall on his 28th wedding anniversary. Instead, he celebrated at home with wife Linda, daughters Megan, Christine and Mallory, and friends including Porter and Pickle.
"What he has accomplished is especially impressive when you consider that there wasn't the safety net of services back then that we have today," said Pickle, a 26-year veteran of the Secret Service who flew in from Denver to attend Lawhorne's graduation party. "He was really on his own with a non-existent home life. He truly is a wonderful role model for kids."
Lawhorne laughs about his reentry into the world of academics.
"It was intimidating going back to school at 54 and sitting next to 19 year olds," Lawhorne said. "Here they are with their laptops and iPhones checking Facebook while I am wearing out my No. 2 pencils."
Porter congratulated his former student by "officially" changing the D he gave Lawhorne in the seventh grade to a C-.
"I wasn't going to give away but so much," laughed Porter, noting the long-running joke the two share about Lawhorne's academics back then. "And yes, even that D was a gift."
Lawhorne's final courses included U.S. history I and II, geology, a computer science class and a student orientation class.
"I couldn't have done it without the support of Linda and the girls," Lawhorne said of his family's support. "In the end, I knew that part of being a good leader was continuing my education. NOVA really is a great place and if I can do it, there is an opportunity out there for everyone."