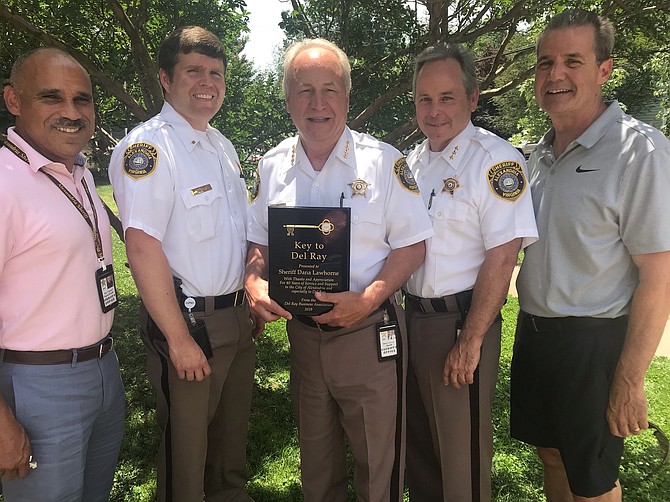 Sheriff Dana Lawhorne, a regular attendee of the Del Ray Business Association monthly meetings, was taken by surprise at the June 17 meeting when he was honored with a "Key to Del Ray" in appreciation of his 40 years of service to the city.
Friends, family members and Del Ray business community leaders turned out to surprise Lawhorne at a luncheon held at the Del Rey United Methodist Church.
"We invited many of Dana's friends that we know he has touched over the years," said DRBA board member Gayle Reuter. "We reached out to some of the businesses on the Avenue that he used to visit almost 25 years ago when we started the Avenue foot patrol because people felt unsafe walking on the Avenue in the evenings. This was an opportunity to thank Dana for all the work he has done in Del Ray."
Lawhorne, who is serving his fourth term as Sheriff, is a lifelong resident of the Del Ray community. He and his wife Linda have three daughters – Megan, Christine and Mallory – and a 4-year-old grandson, Ryan Kaskela.
"I never really got into this business because of politics," said Lawhorne, who served as a detective with the Alexandria Police Department before running for Sheriff. "I wanted to serve the community that I grew up in, that took care of me. I always felt the right thing to do was find myself in the position where I could take care of others."
Attendees at the event included retired police detective Bill Pickle, a longtime friend and mentor of Lawhorne's, and retired T.C. Williams High School principal John Porter. Porter, a close friend now for decades, was Lawhorne's seventh grade social studies teacher at Parker Gray Middle School and routinely jokes that "he still never passed my class."
"Dana grew up in Del Ray, and has always looked out for the community," Reuter said. "Thank goodness for us he never left."