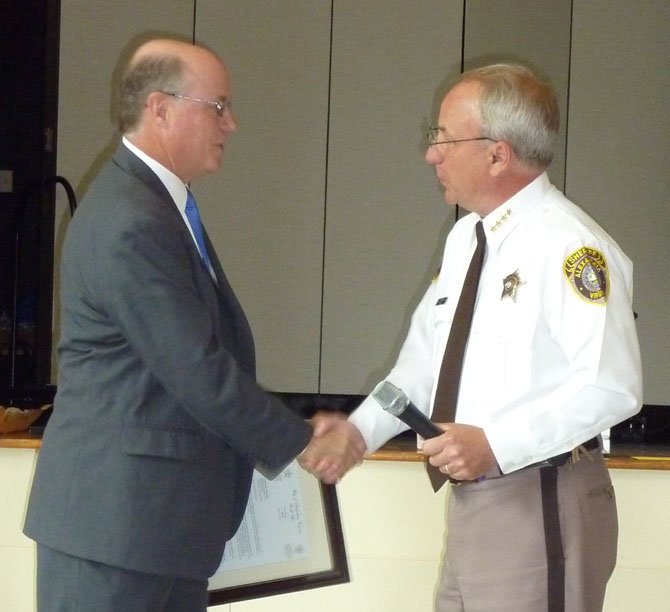 Photo Gallery
Undersheriff Tony Davis Retires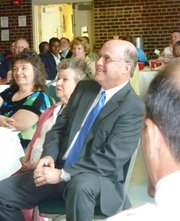 "The last 26 years I have been truly blessed by God and for this I will be eternally grateful." — Alexandria Undersheriff Tony Davis
Click Photo for Flash
Alexandria — Following a law enforcement career spanning more than 30 years, Alexandria Undersheriff Tony Davis was feted June 3 at a retirement luncheon in his honor attended by more than 100 friends, family members and colleagues.
"The last 26 years I have been truly blessed by God and for this I will be eternally grateful," said Davis, who began his career with the Arlington Sheriff's Office before joining the Alexandria Sheriff's Department in 1987.
Held at the Durant Center, attendees included Arlington Sheriff Beth Arthur, Alexandria Circuit Court Chief Judge Lisa Kemlar and General District Court Chief Judge Becky Moore.
"I look out and see many friends and colleagues," Davis said following a good-natured roast by several co-workers. "In each face I see a story and a memory that I will always remember."
Chief Deputy Tim Gleeson presented Davis with his official retirement badge and gun before Sheriff Dana Lawhorne took to the podium.
"From the day I became sheriff, Tony always impressed me with his intellect," Lawhorne said. "It has been my privilege and honor to sit back and watch him work. He was always up for a challenge yet added a sense of fun to the office. Tony has always been very loyal to me and the agency and for that I am grateful."
Gleeson, who was named undersheriff June 4, also praised Davis' dedication.
"Tony's intelligence and leadership are unmatched," Gleeson said. "He lives life like a chess match — he's always five moves ahead of everyone else."
Davis thanked his fellow Alexandria and Arlington law enforcement colleagues before addressing Lawhorne.
"Since I am officially retired, I can say what I want about the sheriff and I do have a few things to say to him," Davis joked before getting serious. "Under Dana I have seen the sheriff's office rise to heights never seen before. It is more recognized and more respected than at any time in the city's history and that is because of the guidance and philosophy of family and teamwork that Dana promotes every day. For that we are all grateful."
A resident of Gainesville, Davis saved his final remarks for fiancé Kim Glaspy.
"People have asked me 'Why now?'" Davis said. "But this is the right time for me. I have been very fortunate and thankful for Kim and her support and look forward to the future with her by my side."