Stratford Landing Elementary School staff and students gathered for an assembly June 6 to honor 8-year-old Katie Lee whose quick response saved her mother's life.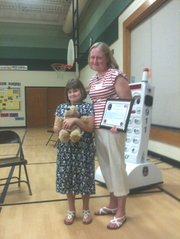 Katie received the 9-1-1 Citizen Lifesaver Award in front of 220 of her classmates. Katie is only the third recipient of this award.
Joe Bui of the Fairfax County Department of Public Safety Communications presented Katie her award. He said, "For only 8 years old, Katie showed tremendous poise and composure as she relayed pertinent information to the DPSC 9-1-1 call taker — all this considering she had witnessed her mother falling down and in tremendous pain."
On Monday, May 14, "I was going up to the bedroom on the third floor," said Katie's mother, Laurie Lee, "I had gotten all the way to the top, and I guess I lost my balance." She fell down a flight of 14 stairs. When she hit the ground, she had a concussion and blood was pouring from a cut on her forehead.
Katie, having seen her mother on the ground, dialed 9-1-1. Despite the drama, Katie spoke with 9-1-1 dispatcher PFC Carolyn Kellam with calm, giving Kellam her name, address, and phone number. Furthermore, Katie helped relay information about her mother's condition to Kellam. As Katie waited for the paramedics to arrive, she was able to open the front door, put the dog away, and console her 7-year-old brother, Zachary.
Katie also suggested to Kellam to put the phone on speakerphone, so that Kellam could communicate directly with Laurie.
"I could tell pretty early on that she was very young, which what impressed me so much," said Kellam, "she sounded like an 8-year-old, but she did not come off as an 8-year-old. She was very mature and gave me the information that I needed as a much older person."
That is not to say Katie was not worried. Katie recalled that "I was a little nervous, and I was thinking, I hope they can save my mom's life."
Laurie Lee received 7 stitches in her head that evening. It was then that she learned about her daughter's heroic actions. "That evening when I was in the hospital, things start to really come forward. My mother was there and told me [Katie] was so calm.
"After people were telling me how calm, it really hit that she had done what she had done," said Laurie Lee after her daughter's award ceremony, "she has got a strength in her."
Asked how much she loves her mother, Katie replied, "like, a lot."