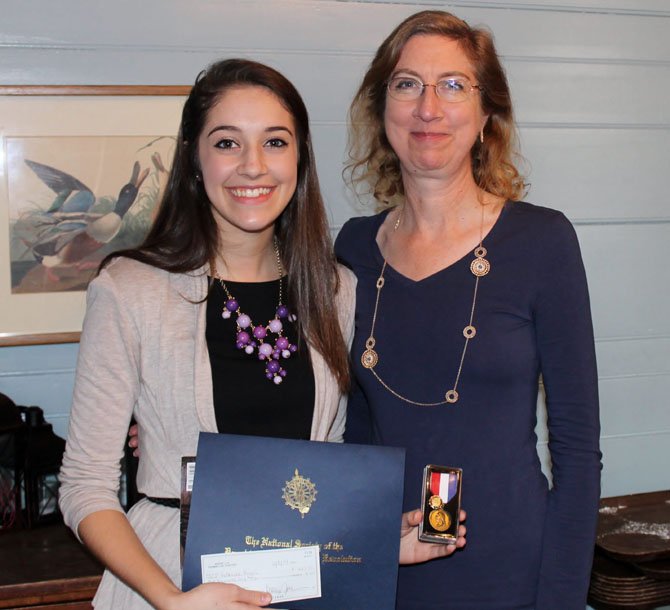 Judy Erickson, a member of the Thomas Lee Chapter of the Daughters of the American Revolution, has known for years that Katie Rogers would make a great candidate for the group's Good Citizen award.
Erickson met Rogers and her mother, Mariana Vervena, when Rogers was a child. The two are neighbors in Fairfax, and Rogers sold Erickson Girl Scout cookies for years.
"Every year I go down to the ladies on my street to sell them Girl Scout cookies, and a few years ago, Mrs. Erickson had mentioned to me that they give this award every year," Rogers said. "Since she has known me my whole life, she told me she would nominate me when I was old enough. She officially asked if I would like to do it this year."
Rogers is a senior enrolled in the International Baccalaureate program at Robinson Secondary School and is involved in numerous activities, including the school's dance team and drama department. She has been the lead in several school productions and won a Cappie award last spring.
Erickson said all of Rogers' activities and the success she has with them made her a great candidate for the award.
"I've seen her perform, I've seen her dance, I've heard her sing. She's been selling me Girl Scout cookies since I can remember. Everything she does at school and at church, she does it all so beautifully. She wouldn't do these things if she didn't want to. I'm very proud of her, and I'm only a neighbor," Erickson said.
According to DAR member Sarah Dickens, Rogers represents all of the characteristics of a good citizen, including leadership, dependability, patriotism and service. Rogers also participated in the Good Citizen national essay contest, which Dickens said was a great testament to Rogers' patriotism.
"It really demonstrated her real understanding of our nation's history," Dickens said.
Rogers said she is thankful to receive the award and to grow up in an area with so many opportunities to pursue the activities of her choice.
"Right now, my favorite thing that I'm doing, in both drama and dance, is being in a teacher-assistant position. I get to help with the class and help the teacher run the class. It's been already such a great experience. Being on the other side of things and letting myself be a role model for the younger kids is the best experience to have," she said.
Rogers said she is inspired by both of her parents to do well in school. Her mother was her Girl Scout leader, which pushed Rogers to give back to her community.
"I have so many great adults in my life to guide me," she said.
Rogers has a 4.296 grade point average and will attend the University of Virginia in the fall.